Star Wars Bits: 'The Last Jedi' Leaks, More 'Battlefront 2' News, Another Actor For Obi-Wan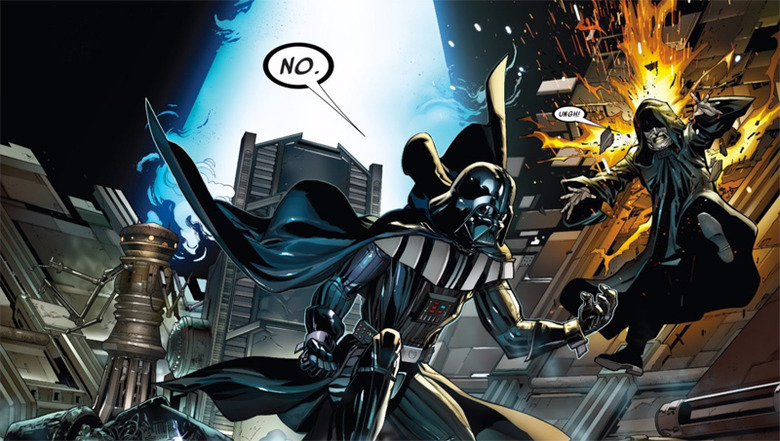 In this edition of Star Wars Bits:
The Last Jedi leaks describe characters and more
Battlefront 2 book tie-in and voice actors news
Donald Glover rocks a 70s Lando 'stache
And more!
The new Darth Vader comic by Charles Soule and Giuseppe Camuncoli launched from Marvel Comics last week and it's chock full of new canon goodness. For one, Vader's extended "NOOOOOOO!" from Revenge of the Sith got split into multiple "No"s that show his rage extended beyond inanimate objects. Instead, in the comic, he lashes out against his new master, Darth Sidious, AKA The Emperor. It, well, doesn't go well for Vader when Sidious puts him swiftly in his place with some Force lightning.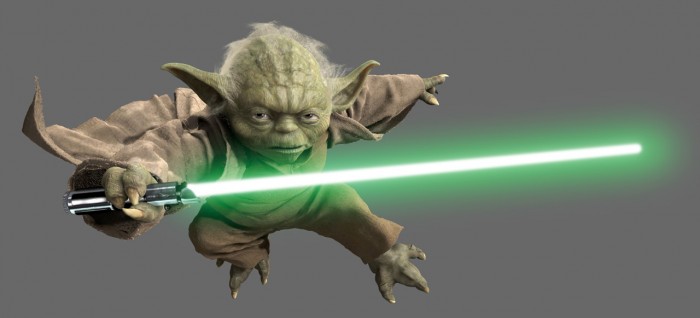 While Sidious explained to Vader (what we first learned in the novel Ahsoka) that Sith lightsaber crystals must be made to bleed with pure dark side energy, thus turning them red (way darker than the old EU version where they were just synthetic, not grown, kyber crystals. WAY darker. Yeesh), we also saw what happened to Yoda's lightsaber – and about 30 other Jedi weapons. The Empire burned them in a major display for their citizens on Coruscant. The crystals probably survived, but they did release a massive burst of Force energy when thrown into the kiln.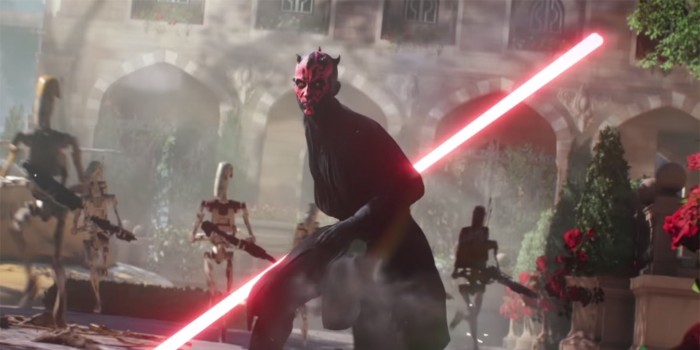 In a twitch broadcast, actor Sam Witwer confirmed that he is voicing Darth Maul in Star Wars: Battlefront 2, the game everyone was drooling over (myself included) all weekend thanks to its new EA Play footage. Witwer voiced Maul on both Star Wars: The Clone Wars and Star Wars Rebels right up to his surprisingly emotional end in the latter, so fans will be happy to hear him back. He also mentioned that he was partly responsible for Dee Bradley Baker, voice of the clones in both shows, voicing the clones in the game. That's sparked a bit of controversy, as Temura Morrison, who played Jango Fett (the clone template) in the prequels, is already signed on to voice Boba Fett in the game. If he's voicing Boba, why not all the other clones who should have the same voice? We'll let you debate it in the comments.
With my buddy #Donald Glover in Spain
A post shared by Woody Harrelson (@woodyharrelson) on
In a picture on instagram, Woody Harrelson meant to just show off that he and Donald Glover, who are co-starring together in Han Solo: A Star Wars Story (not final title), were chilling in Spain having a drink. Glover, rocking a Donald Duck shirt (the picture happened to be on Donald Duck's b-day, ya big nerds), was also sporting something else: a good old '70s mustache, reminiscent of Billy Dee Williams, who originated the role of Lando Calrissian. It's glorious. StarWarsNewsNet has a great side-by-side comparison, too.
Bobby Roberts, popular Star Wars journalist, podcaster, and youtuber, took the original John Williams cue for what is probably the moment of The Force Awakens, Rey Force-pulling the discarded Skywalker lightsaber out of the snow, and put it to the film's footage (via Screencrush). The cue can be heard on the original official soundtrack, despite it being changed in-film. YMMV, but the original version's deeper tones and moment's hesitation with complete silence for the lightsaber ignitions is pretty dang cool.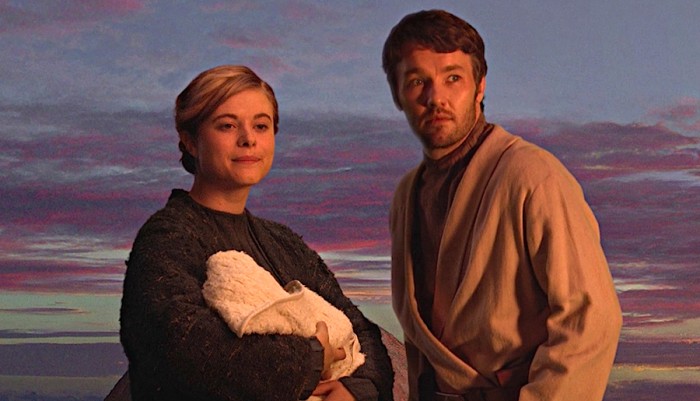 While we've officially heard from Ewan McGregor 3,720 times that he'd be up for a Ben Kenobi movie set between the events of Episode III and Episode IV, now a possible supporting cast member has also thrown his desire to be in another revered and highly paid/highly watched franchise film into the mix. Yes, headlines that read "Actor X wants to be in Movie Y that would be a near-perfect bet" are a little silly, but yes, Joel Edgerton, who played Uncle Owen in the Prequel Trilogy, would love to jump back into Star Wars, he told BusinessInsider:
"My idea is that he could go out and have some adventure and then he comes back and slips back into that unassuming moisture farmer role. Everyone talks about Obi-Wan being super cool, Owen secretly knows that he was there, and he did some of the cool s—, too."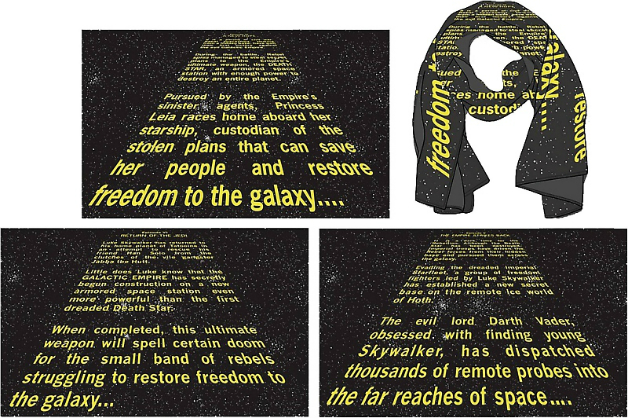 A lot of fans were all wrapped up in the lack of an opening crawl for Rogue One, and now they can check their necks and be literally wrapped up in their love of crawls, thanks to officially licensed scarves from Mighty Fine and Diamond. Yes, these have the texts of the original trilogy opening crawls on scarves. They're $21.99 for episodes V and VI, and $24.99 for A New Hope, which comes with a lapel pin, all out in September 2017.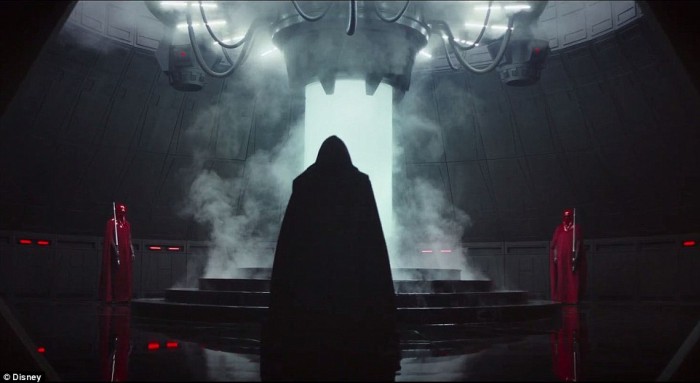 The Old Imperial Guard made a guest appearance in Rogue One, but the next generation looks like they'll be even deadlier and more intimidating. In a leaked shot from some kind of art book, found by Templo Jedi Aztlan via StarWarsUnderworld, we see the First Order Elite Praetorian Guard, as seen in Star Wars: The Last Jedi. They're clad in red still, but with a much more plated armor, and a staff with a longer blade point at the end. A new look at the First Order's version of the four-legged Walker the AT-M6 is there, as well, so get to clickin.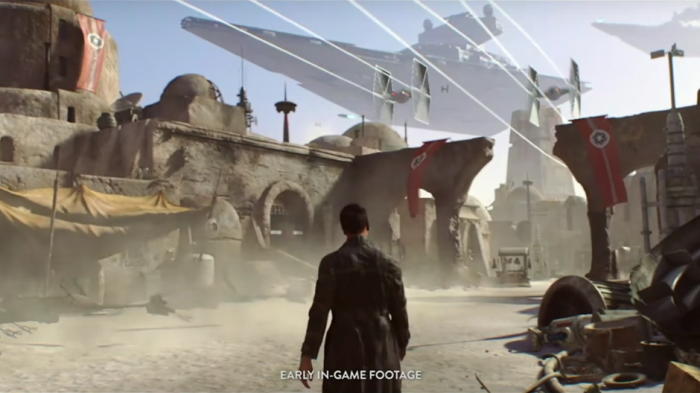 At last year's EA Play, and the subsequent Star Wars Celebration Europe convention about a month later, we saw glimpses of Star Wars games to come; not just Battlefront, but the game in active development from Visceral and even some just-for-fun mocap being done from the developers of Titanfall as they started work on their game. Then at this year's? Not even a cursory mention of anything other than Battlefront 2. What gives? I took to twitter to ask Creative Director Amy Hennig and writer/actor/man about town Todd Stashwick, and Hennig replied with praise for BF2 and a call for patience.
It's #Battlefront2's year – very proud of our friends at DICE and Motive! We're still hard at work on our game, though, have no fear...

— Amy Hennig (@amy_hennig) June 10, 2017
Okay, okay, but we still want it the SECOND you guys are ready, deal?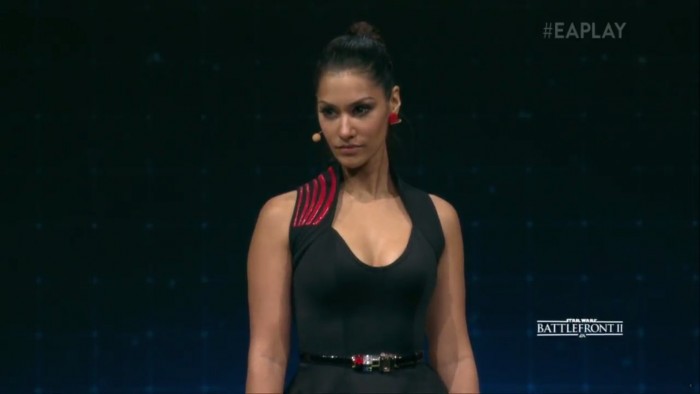 Finally, in one last bit of Battlefront 2 news (oh who are we kidding, there'll be more this week for sure), the star of the game, Janina Gavankar, who plays Imperial Commander Iden Versio, will be pulling double duty as the narrator of the audiobook for tie-in novel Star Wars Battlefront 2: Inferno Squad by writer Christie Golden. The novel tells the backstory of Iden and her elite Imperial task force. Like Ahsoka, which was narrated by actress Ashley Eckstein, this gives a nice tie-in between the multi-media projects, and will make this a must-listen, even if you read the novel itself before or after. Incidentally, the dress she wore at EA Play is also up for pre-order, if you want to dress like a powerful, gorgeous Imperial.