'The Trip To Spain' Trailer: Roger Moore Impression And Good Food – What Else Could You Want?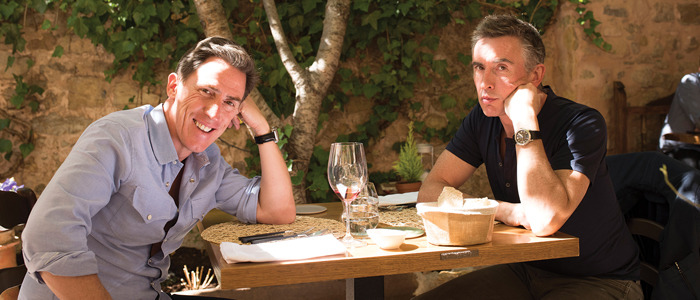 While The Trip movies often include a couple of melancholic moments and some pontificating about getting older, the majority of these films are an absolute pleasure to watch. Director Michael Winterbottom has locked in on a simple but effective formula: stars Steve Coogan and Rob Brydon cruise across various countrysides eating delicious-looking food and incessantly bantering back and forth.
After a three year hiatus, they're all back for a new set of adventures. IFC Films has unveiled the first full-length trailer for The Trip to Spain, the third and latest entry in this unlikely franchise, and Coogan and Brydon pay homage to late James Bond actor Roger Moore with more impressions.
The Trip to Spain trailer
After immensely enjoying both 2010's The Trip and 2014's The Trip to Italy, I can't imagine not liking The Trip to Spain just as much as the series' previous efforts, if not more. Coogan and Brydon have wonderful chemistry together here and these exaggerated versions of themselves have a fun and funny rivalry that's a seemingly endless source of humorous conflicts. And those impressions are just fantastic. That crack about the scallop is a nice callback here to the "Come come, Mr. Bond" impression-off from The Trip to Italy that cracked me up at the time. I can't wait to see these guys to toe-to-toe again.
Even though I'm a fan of these films, I'm somehow just learning that each The Trip movie was edited down from a full season of a television show (also directed by Winterbottom) in order to fit a standard movie run time. Armed with that knowledge, I'm now planning to scour all of my cable provider's BBC networks in the hopes of tracking down the full TV seasons to watch before this new movie comes out.
The Trip to Spain cruises into theaters on August 11, 2017.
After jaunts through northern England and Italy, Steve Coogan and Rob Brydon embark on another deliciously deadpan culinary road trip. This time around, the guys head to Spain to sample the best of the country's gastronomic offerings in between rounds of their hilariously off-the-cuff banter. Over plates of pintxos and paella, the pair exchange barbs and their patented celebrity impressions, as well as more serious reflections on what it means to settle into middle age. As always, the locales are breathtaking, the cuisine to die for, and the humor delightfully devilish.