'Rampage' Photos: Don't Get In Dwayne Johnson's Way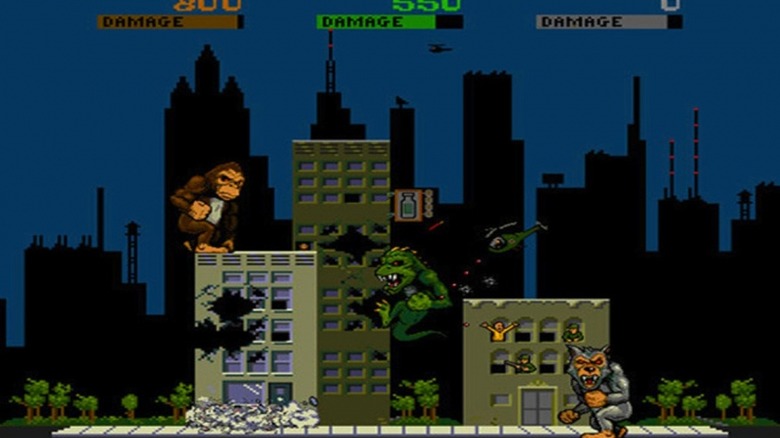 Dwayne Johnson is on the hunt for one big silverback gorilla. The nearly nonexistent story of Midway's classic arcade game, Rampage, has been adapted into a story about primatologist Davis Okoye and his best friend, a gorilla named George. Brad Peyton's (San Andreas) film is all about one beefy animal lover trying to save the day and his closest pal.
Below, check out new Rampage photos from the set.
The video game adaptation is currently shooting in Atlanta. Johnson has already shared a few pics from the set on his Instagram account, including one of 6'9 actor Jason Liles playing George via motion-capture. It's unclear whether any actor is playing the giant lizard or wolf during their trip through America, but WETA Digital will help bring them to life.
In a new pic from Rampage, Dwayne Johnson is looking like his usual robust, charming, and determined self.
We have a problem. The beasts survived. Their blood and tracks headed cross country... #PartyInHell #Rampage 4-20-2018
A post shared by therock (@therock) on
Johnson, hopefully, causes that destruction singlehandedly with one punch. Although maybe it was the giant monsters.
The Baywatch star shared a video of the set as well of himself and stuntman Dave Macomber, who got a nasty bump on the head after a major stunt. He had to go the hospital but he's thankfully all right and will be back to work in a week. Johnson asked him one very important question and gave a nice shoutout to the stunt artists:
As producer and ???? unlicensed doctor, when I see a potential concussion, I ask the most critical question.. Who's the Sexiest Man Alive? Big stunt on set of #Rampage last night, my bud and bad ass stuntman, @DaveMacomber got thrown from one side of this massive C-17 plane to the other. Overshot his crash pad and flew straight into the wall and knocked himself out. He doesn't remember his last name, nor can he remember the name of his kids. Jokes aside, after this incident we shut down production and let our hard working crew go home. I stayed here w Dave and our stunt coordinator @alpop.stunts and eventually got Dave to the hospital. Brain is in tact, CAT scan was clear and Dave takes it easy for a week before jumping back in the saddle. A strong reflection of how our stunt brothers and sisters will always be the backbone of Hollywood. All my luv, gratitude and respect. #CowboyUp #StuntmanDave #OnSet #Rampage #DrRockAskingTheCriticalQuestions #SexiestManAlive
A post shared by therock (@therock) on
Johnson is working with recent Academy Award-nominee Naomie Harris (Moonlight) on Rampage. Here's the two of them taking cover from something:
*thigh grab was unplanned, but instinctual since I'm in protect mode. ???? Intense week for me and my partner in survival, @naomieharris. Total destruction and chaos caused by the three gigantic rampaging beasts putting us in constant "fight or flight" mode. Lucky SOB to have such a spectacular actress by my side puttin' in this level of intense emotion daily. If you haven't seen "Moonlight" yet, check it out and you'll see why her powerful performance was nominated for an Oscar. Until then, we'll keep dancing at this party in hell. And we'll see you there. #LetsDance #Rampage 4-20-2018. A post shared by therock (@therock) on
"Intense emotion daily" may sound surprising for an adaptation of the game Rampage, but Reed hopes the movie is "a lot more emotional, a lot scarier and a lot more real than you'd expect." Of course, the story sounds ludicrous, but if you want to ground a giant gorilla, lizard, and wolf in reality, hiring actors of Johnson and Harris' caliber isn't a bad start. They have fine supporting cast, too.
Rampage co-stars the one and only Joe Manganiello (Magic Mike XXL), Watchmen stars Jeffrey Dean Morgan and Malin Akerman, Jake Lacey (Carol), Marley Shelton (Grindhouse), and P.J. Byrne (Big Little Lies). Here's the synopsis:
Primatologist Davis Okoye (Johnson), a man who keeps people at a distance, shares an unshakable bond with George, the extraordinarily intelligent, silverback gorilla who has been in his care since birth. But a rogue genetic experiment gone awry transforms this gentle ape into a raging monster. To make matters worse, it's soon discovered there are other similarly altered alpha predators. As these newly created monsters tear across North America, destroying everything in their path, Okoye teams with a discredited genetic engineer (Naomie Harris) to secure an antidote, fighting his way through an ever-changing battlefield, not only to halt a global catastrophe but to save the fearsome creature that was once his friend.
Rampage opens in theaters April 20, 2018.