Listen To The New 'DuckTales' Theme Song And Find Out When The Show Premieres On Disney XD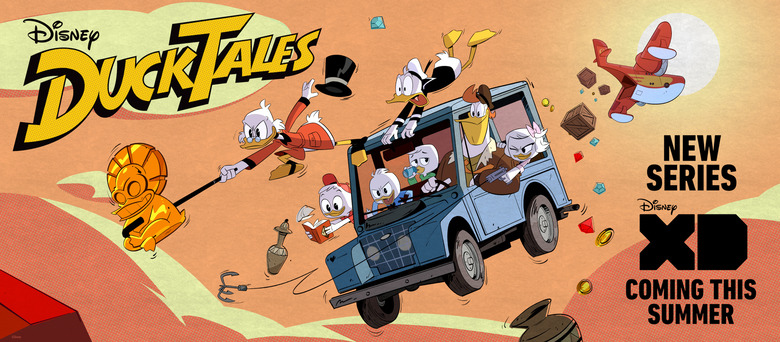 If you were a kid growing up in the '80s and '90s with access to American television, I'd guess there's about a 50% chance that you know the DuckTales theme song by heart. Here's how ubiquitous it was: I didn't even watch the show and I still somehow managed to absorb every word of it.
Good news for those who anyone who still has that kicking around in your head after all these years: you don't have to relearn any lyrics for the new version of DuckTales that's coming to Disney XD. The network has released the new main titles of the show, which features an updated take on the classic theme song, as well as an official premiere date for when Scrooge, Donald, Huey, Dewey, and Louie will be heading to the small screen.
DuckTales Theme Song
Pretty rad, huh? I love the way the new intro has the characters traveling through comic book panels to reflect this new iteration's reliance on Carl Barks' beloved source material.
The Hollywood Reporter brings word that the show will premiere with a one-hour TV movie that will air for 24 straight hours starting at midnight on Saturday, August 12. After that, we'll have to wait until September 23 to see the next two episodes of the show, but Disney XD is going to make sure you won't miss it by airing it multiple times over the course of the day: it'll be on at 7:00 A.M., 11:00 A.M., 2:00 P.M., 5:00 P.M., 8:00 P.M, and 10:30 P.M..
Also, get a load of this awesome-sounding synopsis:
The story unfolds as Donald Duck reluctantly takes Huey, Dewey and Louie to the home of their reclusive great-uncle Scrooge McDuck. Enthralled by their once-legendary great-uncle and the wonder of McDuck Manor, the triplets and [their friend] Webby Vanderquack learn of long-kept family secrets and unleash totems from Scrooge's epic past, sending the family on an adventure of a lifetime to the Lost City of Atlantis.
While I never saw any of the original series, I did watch the 1990 feature film DuckTales The Movie: Treasure of the Lost Lamp a ridiculous number of times when I was a kid, so I do have some nostalgic affinity for these characters. And with such a stellar cast involved (seriously, this thing has cast a ton of amazing people in it), maybe I'll tune in and check out Disney's new revival of an old staple.
Based on the Emmy Award-winning series treasured by a generation of viewers, Disney XD's animated comedy-adventure series "DuckTales" chronicles the high-flying adventures of Duckburg's most famous trillionaire Scrooge McDuck, his mischief-making triplet grandnephews, Huey, Dewey and Louie, temperamental nephew Donald Duck and the trusted McDuck Manor team: big-hearted, fearless chauffer/pilot Launchpad McQuack, no-nonsense housekeeper Mrs. Beakley and Mrs. Beakley's granddaughter, Webby Vanderquack, resident adventurer and the triplet's newfound fierce friend.