Could 'Cars 4' Replace Lightning McQueen In The Driver's Seat? [Interview]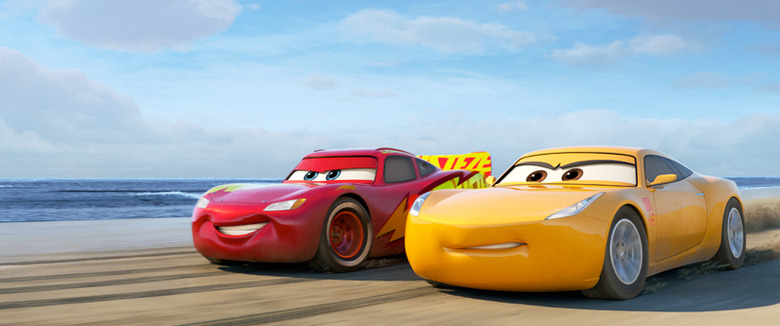 During my conversation with Cars 3 director Brian Fee last week, I brought up the question of another Cars film. If this movie is a hit and they decide to make a fourth installment, could Owen Wilson's Lightning McQeen take a back seat (pun intended) while another character becomes the focal point of the series? Here's what the filmmaker said about the possibility of a Cars 4.
To set this up, I need to delve into some spoilers for Cars 3, so if you haven't seen the movie, you may want to come back later.
The film ends with Lightning McQueen deciding to retire and become the pit chief for Cristela Alonzo's Cruz Ramirez, his former trainer who becomes a racer in her own right. Would a fourth Cars film focus on Cruz Ramirez with McQueen in her corner? That's something we proposed as a possibility after Ethan Anderton's press day at Pixar Animation earlier this year, so I asked Brian Fee this question and he gave me a very Pixar-ish answer:
I think there could [be a different character as the star] if it feels right.  I mean, I think never say never.  And I think you can make a good movie about anything if you have, if the audience can connect.  Right, I think that's what it boils down to.  Can the audience relate to the story?
Following the sports movie tropes, I could easily see McQueen being "pulled out of retirement" for one last race. But let's imagine a Cars 4 where that doesn't happen. Would it follow the rising career of McQueen's protege? Or could it return to Radiator Springs and focus on a story off the racetrack with Mater and all the gang? Cars 3 is a good conclusion for the franchise, but so was Toy Story 3 and Pixar is currently hard at work on the fourth installment of that series. If the Cars toys continue to sell as well as they have, there is a big chance we'll see a Cars 4.