Kevin Feige Denies A Marvel Vs. DC Rivalry, Won't Rule Out R-Rated MCU Movies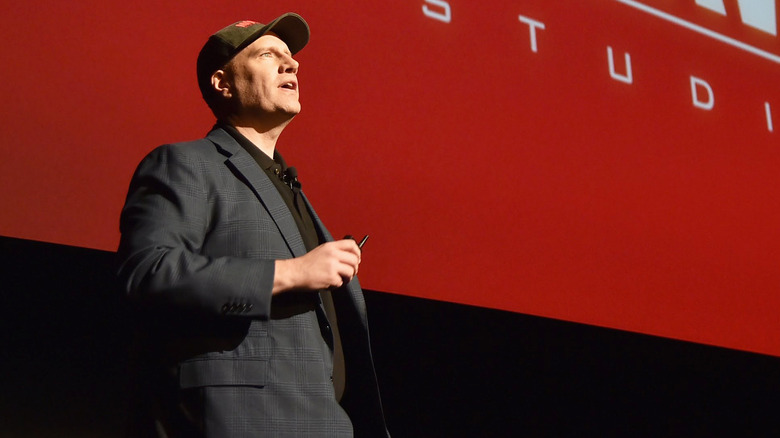 The Marvel-DC rivalry has long spiraled out of control, and there's probably little that Marvel Studios president Kevin Feige can say to douse the flames of the ongoing online war. But hey, at least he tried.
In an extensive Facebook Live Q&A, Feige talked about how the Marvel vs. DC Comics feud doesn't extend to the people working at the studios. He also talked about the possibility of the Marvel Cinematic Universe tackling an R-rated movie in the vein of Deadpool or Logan.
Ever since the MCU was birthed in 2008 with the surprise hit that was Iron Man, pitting it against Christopher Nolan's superhero magnum opus The Dark Knight, DC and Marvel moviee fans have been at each other's throats. Of course, the rivalry has stretched back to the two comics companies' real rivalry from the 1960s through today, but it reached a fever pitch once superhero cinematic universes started dominating the box office.
While the fan war has become increasingly paranoid — and to be honest, a little scary — the superhero companies themselves have completely mellowed out.
Marvel vs. DC Doesn't Exist
The massive success of Wonder Woman and the exciting new trailer for Black Panther saw a coming-together for the brains behind Marvel and DC. Marvel stars like Brie Larson and Chris Evans could be seen congratulating Wonder Woman director Patty Jenkins, while co-chairman of DC Films Geoff Johns praised the trailer for Black Panther, which he called "one of my favorite characters to write when I was at Marvel."
Feige had only good things to say about DC and Johns as well in his Facebook Live with AlloCiné:
"There's not really a rivalry. The rivalry is much more amongst the press, I think. Geoff Johns is a very good friend of mine. We grew up together in the business and recently celebrated Richard Donner, who we both used to work for. So, I applaud all the success he's had. I really just look at it as a fan. When the movies perform well and are well received, it's good for us – which is why I'm always rooting for them."
While I'm not completely convinced that Marvel and DC don't play up the rivalry for marketing — just look at how Black Panther's trailer unexpectedly dropped just when Wonder Woman's hype started to grow. Also note the hilariously petty and intentionally close release dates of Marvel and DC's superhero clash movies, Captain America: Civil War (April 2016) and Batman v. Superman: Dawn of Justice (March 2016). I do believe that there are no hard feelings between the people at Marvel Studios and the DC Films section at Warner Bros., but to deny a rivalry altogether is silly.
Feige said he was particularly overjoyed by the success of Wonder Woman, which helps pave the way for Marvel's first female-led superhero movie, Captain Marvel, which will star Brie Larson as Carol Danvers:
"The success of Wonder Woman is wonderful. It makes us incredibly happy. Finally, we can put to rest the falsehood that audiences don't want to see female characters. We never believed that was true. There were a run of movies that just weren't very good 10-15 years ago that caused that reputation. I'm glad that Wonder Woman has blown that away."
I'm not surprised that Feige is glad about Wonder Woman's overwhelmingly positive reception — despite what he says about trusting in the box office strength of female characters, it did take Marvel 10 years and 15 movies to get to its first female superhero movie, and not for lack of demand. Scarlett Johansson's Black Widow has been one of the most popular MCU characters since she stole the show in 2012's The Avengers, and fans have been clamoring for a solo movie since then. While I'm glad that Captain Marvel will finally be hitting theaters in 2019, it's been a long time coming, Feige.
Is There an R-Rated MCU Movie in the Future?
Maybe, Feige said in the Facebook Live:
"Not currently planning (R-rated movies), no, but it's not out of the question. When I started at Marvel 17 years ago, the Blade franchise was doing very well. A lot of people didn't even know it was based on a Marvel character, because at the time, they sort of hid the fact that it was a Marvel character. So, not out of the question, but not something we're working on right now."
I'm glad that Feige acknowledged that an R-rating doesn't create buzz or a successful movie — good, new storytelling does. And while an R-rating does allow for superhero movies to explore facets they never have before, it has to be done organically, out of the nature of the character.
Is Feige hinting at an R-rated Blade movie? Marvel Studios did gain back the rights to the character in 2013 alongside Daredevil, Punisher and Ghost Rider, but unlike those three, who have all appeared in Netflix or ABC shows, there are no plans for Blade. Yet. The R-rated trend could push Blade into existence, and Feige's name-dropping the vampire-hunting superhero could be a hint at an R-rated MCU movie in the future.