'The Gracefield Incident' Trailer: A Recording Prosthetic Eye Witnesses An Alien Invasion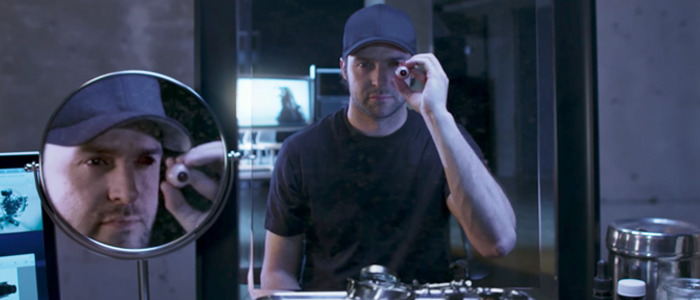 One of the biggest complaints we tend to have about movies presented in the found footage style is always, "Why would these people keep the cameras rolling in these intense situations?" A new movie called The Gracefield Incident seems to have found a nice way around that pesky problem: the protagonist implants a camera into his prosthetic eye so he can record an upcoming vacation with his friends, but he also manages to witness a terrifying alien invasion during the trip. That's a nice twist on a tired formula, but will it be enough to get audiences to check it out? Take a look at the trailer for The Gracefield Incident below.
The Gracefield Incident trailer
That's Mathieu Ratthe in the lead role. He also wrote and directed this film, which serves as his feature directorial debut. There are definitely some tried and true tropes on display here (the getaway weekend gone wrong, a Signs-esque alien in a cornfield, crop circles, a spaceship ripped off from Close Encounters of the Third Kind, etc), but there may be more to The Gracefield Incident than meets the eye. The shot of the alien holding the screaming woman by the face with its fingers glowing into her eyes is creepy as hell, and there's potential for a few more solid scares amid the low budget thrills.
Ratthe has directed a few short films, the most recent of which is called Pretty Wicked and is set in a world of fairies. It's heavy on style and light on just about everything else, but it may provide you with a little bit of a gauge for what Ratthe can do as a filmmaker. Take a look:
Ratthe has written and directed two more shorts, Lovefield and Stephen King's The Talisman, but for some reason he only uploaded those to his YouTube page in 240p, so the quality is pretty terrible. If you're curious, those are below:
Here's the official synopsis for The Gracefield Incident:
Matthew Donovan, a video game editor, embeds an iPhone camera into his prosthetic eye to secretly record and document a weekend with friends in a luxurious mountain top cabin. The weekend takes a terrifying turn when a meteorite crashes the party forcing everyone to face the darkest, screaming nightmare while somehow connecting life, love, and loss in a twist of fear.
Kimberly Laferriere, Victor Andres Turgeon-Trelles, Juliette Gosselin, Alexandre Nachi, and Laurence Dauphinais co-star alongside Ratthe. The movie arrives in select theaters and on demand on July 21, 2017. Thanks to FirstShowing for pointing this out.