New 'Game Of Thrones' Season 7 Photos And Special Effects Featurette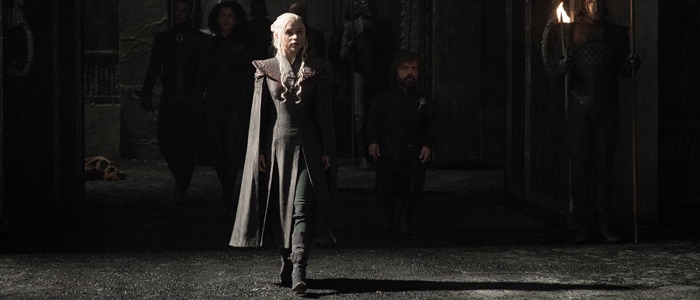 Game of Thrones may be premiering in the hot months of summer this year, but after years of solemn looks and ominous warnings, winter is finally here. Some new photos from the upcoming season have arrived and we get to see new looks at our favorite kings, queens, schemers, and sidekicks as they prepare for The Great War against the Night's King and the White Walkers.
Plus, there's a new special effects featurette that taught me that far more of the show is captured practically than I'd previously thought. Check it all out below.
Let's start with the special effects featurette, entitled "A Story in Special Effects," which includes interviews with the show's special effects supervisor, Sam Conway:
I'd seen some behind-the-scenes bits of the production before, so I was familiar with the way this team used real flame throwers to create the fire that Dany's three dragons – Drogon, Rhaegal, and Viserion – regularly spew. But after watching
for the show, I assumed most of the rest of the dangerous-looking effects were achieved purely in post-production. This featurette proves that's not the case: I had no clue that they essentially film a special effects pass on the sets (dropping burning logs onto a ship deck, for example) and then composite that footage into a later shot with actors standing on board. That's awesome.
Now, on to the photos (via
)! Despite the rampant deaths that seem to occur every episode, this cast of characters has swelled to become so large that not all of them are featured here. But take a look, and then we'll do a quick roll call and see what everyone's up to.
There's Beric Dondarrion (Richard Dormer), the leader of the Brotherhood Without Banners, on horseback with his latest unlikely recruit, Sandor "The Hound" Clegane (Rory McCann). Maester-in-training Samwell Tarly (John Bradley) and his gal pal Gilly (Hannah Murray) are trying to learn everything they can about the Night's King and how to defeat the White Walkers from the plethora of books in the Citadel at Oldtown. In one of those pics, it looks like Sam has been practicing an autopsy (is that a heart on a scale behind him?).
Bran Stark (Isaac Hempstead-Wright) stares up at something in the Northern snow, most likely The Wall, while Podrick Payne (Daniel Portman), Lyanna Mormont (Bella Ramsey), Sansa Stark (Sophie Turner), Davos Seaworth (Liam Cunningham), Brienne of Tarth (Gwendoline Christie), and Tormund Giantsbane (Kristofer Hivju) gather to listen to Jon Snow (Kit Harington) address the troops. Meanwhile, Jamie Lannister (Nikolaj Coster-Waldeau) looks stone-faced in King's Landing's Red Keep, while Daenerys Targaryen (Emilia Clarke) finally steps foot on Westeros and explores Dragonstone.
Game of Thrones season 7 premieres on July 16, 2017.