'Justice League' Reshoot Set Photos Hint At More Wonder Woman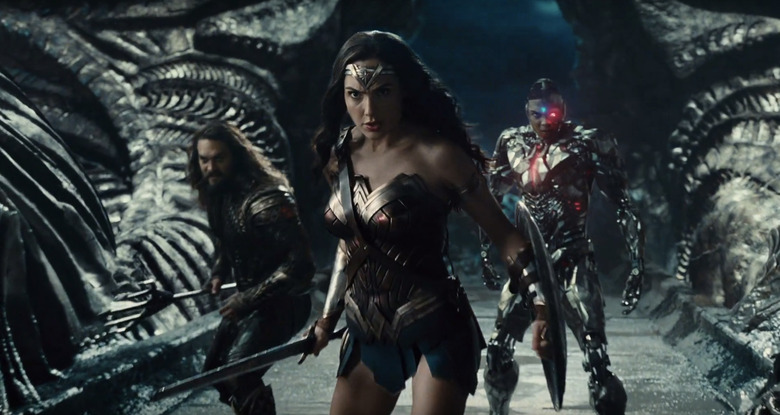 Reshoots are a common part of the blockbuster movie business and while we can whip ourselves into a frenzy over news of "significant reshoots" or additional returning characters, the vast majority of additional photography exist for one purpose: to make a movie better. But with Wonder Woman surprising everyone with its critical acclaim and box office success, it's no wonder that it may be affecting upcoming Warner Bros. projects...including the next big DC Extended Universe movie: Justice League.
Photos from the set of the superhero team-up movie suggest that Gal Gadot's role in Justice League may be bigger than originally intended. And honestly, I don't mind.
Justice League is eager to get in on the Wonder Woman love, it seems. New set photos suggest that additional footage currently being filmed for the fifth film in the DCEU will flash back to the World War I setting of Wonder Woman. Photos on the Cardington Sheds in Bedfordshire, England set published by Batman Notes show early 20th-century cars and buses, as well as a German fighter plane similar to the one that Chris Pine's Steve Trevor crashed near Themyscira.
Recent reports confirmed that Robin Wright and Connie Nielsen would be returning in the film as Antiope and Queen Hippolyta, respectively. The inclusion of the period vehicles and World War I plane suggest that the Wonder Woman-centric flashbacks will expand beyond just Themyscira and feature her days fighting in the trenches of World War I. While the story in Wonder Woman came to a pretty definitive close, there could be an opportunity for deeper exploration into her relationship with the group of misfit soldiers and spies that Steve Trevor brought together, and how it prepared Diana to work in a team.
Could Pine make a significant return as Steve Trevor? Pine reportedly signed a multi-picture deal with Warner Bros., suggesting that he could appear frequently in flashbacks in various DCEU films, à la Hayley Atwell's Peggy Carter in Marvel's Captain America movies.
Diana of Themyscira's expanded role in the reshoots may be the doing of Joss Whedon, who has taken over Justice League reshoots after director Zack Snyder stepped aside to deal with a personal family tragedy. Whedon is a well-known fan of Wonder Woman, trying for years to get his own Wonder Woman film off the ground before parting ways with Warner Bros. over creative differences.
While this is great news for fans of Wonder Woman, it does raise a little bit of concern for Justice League, which already has the burden of introducing characters like Aquaman, the Flash, and Cyborg to general audiences. Expansive World War I flashbacks could clutter up a movie that features characters other than Wonder Woman, Superman, and Batman. But I guess Warner Bros., like us, can't wait for Wonder Woman 2 either.
Justice League stars stars Ben Affleck as Batman, Henry Cavill as Superman, Amy Adams as Lois Lane, Gal Gadot as Wonder Woman, Jason Momoa as Aquaman, Ezra Miller as The Flash, Ray Fisher as Cyborg, and J. K. Simmons as Commissioner Gordon. It hits theaters on November 17, 2017.