'Cars 3' Early Buzz: Is It The First 'Cars' Film Worthy Of The Pixar Brand?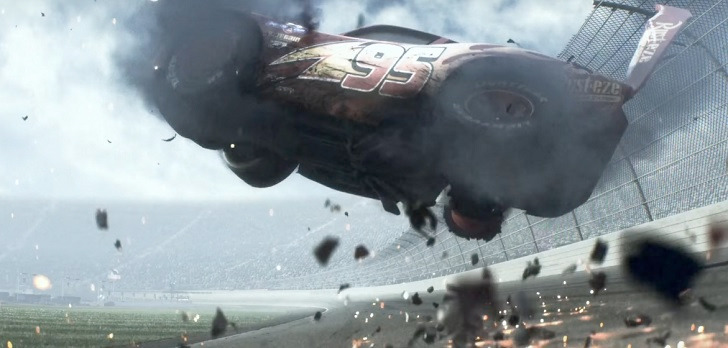 Cars 3 premiered over the weekend in Anaheim, California and I was in attendance, despite the fact this Pixar mega-fan does not love the Cars franchise. So, what did I think? And what are the other critics saying? Read on to check out the reaction to Pixar's latest in the first Cars 3 reviews.
Cars 3 Reviews Early Buzz Reactions
Peter Sciretta from /Film: This is the first film of the Cars franchise that truly earns the Pixar brand label. The theme at its core is ambitious, surprising, and not something you'd expect from an animated film franchise that has been mostly aimed at young children so far. Some of the franchise's annoying characters, like Mater, have a thankfully much-reduced role in this story, which takes us back to the racetrack and the heart of the original Cars film after that bizarre spy sequel. While this film will likely make you tear up (as it did for me!), it's hard to not be a little annoyed that the ending holds back from what it really wanted to be...probably in an effort to sell toys.Variety: Cars 3 feels like it has been conceived and directed, with scrupulous love and affection (and a bit of baseline corporate calculation), "for the fans." It's the first "Cars" film that Lasseter has handed off to one of his trainee/protégés  — Brian Fee, who has never directed a feature before. Fee honed his chops as a storyboard artist, working on "Ratatouille" and the two previous "Cars" films, and what he's come up with is an exceedingly sweet and polished fable that unfolds with a kid-friendly, by-the-book emotional directness. The CGI animation has a detailed lush clarity highly reminiscent of "Ratatouille," and the picture moves at such an amiable pace that even the drawling, dawdling pick-up-truck doofus Tow Mater (Larry the Cable Guy) doesn't slow it down.THR: As in the first film, the themes of youth vs. old age and change vs. heritage once again play a prominent role in the script, credited to Kiel Murray, Bob Peterson and Mike Rich, which does a nice job retaining the warmly regarded original characters (although in much smaller roles) while introducing engaging new ones — most notably Alonzo's spunky Cruz. ... Like its predecessors, the film is visually quite splendid and, especially for an animated feature, stirringly well lit, most notably in a racing sequence set along a photo-realistic beach during golden hour and another on a vividly moonlit night. But despite its many winning characters and good intentions, Cars 3 functions mainly as a tenderly rendered, wish-you-were-here picture postcard to Newman, whose absence, while affectionately noted, ultimately serves as a reminder why Lightning can never truly strike twice.IGN: Cars 3 may not be among the best films Pixar has made, but it's definitely the best film in the Cars series and the first to feel worthy of the Pixar label. It's got more on its mind than simply being about Lightning trying to win a race and is the first Cars film likely to truly resonate with a larger audience beyond the kids who love it already. While it feels like it could use a more nuanced antagonist and is hit or miss in the comedy realm, there's a nice sense of closure here, too, which would make this a perfect and redemptive beat to end the story on – both for the characters and the franchise as a whole. Lightning McQueen, you've come a long way.Uproxx: With Cars 3, thankfully, the main character is Lightning McQueen again, voiced by Owen Wilson who really is great in the part. And it's hard to ignore the parallels between Cars 3 and Rocky III, of all things (more on that in a bit). But this does feel like a movie aimed at a slightly older audience than the previous two Cars movies – which makes sense since a seven-year-old when the first Cars came out would now be 18. (It's hard to believe the first Cars is now 11 years old.) And to finish off my coconut chocolate analogy that I already regret making, Cars 3 is filled with enough other ingredients that I actually found this one enjoyable. (Also, I really like Rocky III.)USA Today: Some punny lines are painful — just a warning, "Life's a beach and then you drive" does get uttered on a sandy track — and the plot doesn't even pretend to be unpredictable. But Cars 3 at least tries to put a little extra in the tank this time around.Indiewire: Considering that it's a second sequel in a less-than-revered franchise, it's a minor miracle that "Cars 3" hits the finish line with a fresh sense of purpose.VOX: Thus, it's a relief that Cars 3 skews more toward the original flavor than the sequel (a spy movie–inflected mess that revealed a Pixar slightly out of its depth with something so action-heavy). It's not to the level of that first film, but its amiable, ambling nature keeps it from becoming too boxed in by its needlessly contorted plot (which all but spoils its own ending very early on, then spends roughly an hour futilely avoiding said ending).Inside The Magic: Cars 3" doesn't just split the difference between the two previous entries in the series. It commits to change at top speed and throws "Cars" into full reverse, rocketing back past the lukewarm rustic roots of the first movie and arriving at something resembling a genuine, mature-minded drama with enough humor and adventure mixed in to ensure that both adults and children will find something to enjoy.Laughing Place: Don't let the lingering stink of Cars 2 stop you from experiencing this latest outing. In fact, you can forget it even exists as there is no carryover from that film into this one, not even a passing reference. If you're a fan of the original Cars film, you're going to love Cars 3. It's a refreshing and delightful surprise that proves that Pixar still has what it takes to be a leader in animated films.