See The Full Extended 'Spider-Man: Homecoming' NBA Finals TV Spot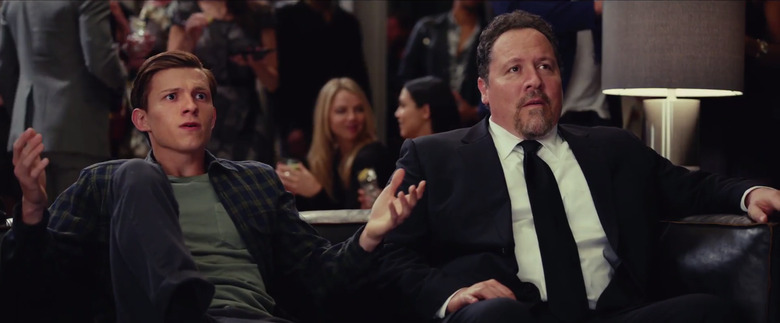 Some of the most cringeworthy parts of summer blockbuster season are the weak marketing tie-ins. You know what I'm talking about: that Captain America: Civil War trailer that was actually a glorified Audi car commercial and that ill-advised Dunkirk TV spot that equated the horrors of war with basketball.
But when it comes to cross-marketing promotions, the Spider-Man: Homecoming NBA Finals TV spots actually aren't that bad. In fact, they're kinda' delightful. And now, we can see the full extended spot that follows Peter Parker's mini-adventures as he just tries to get to Mr. Stark's game-watching party.
What's great about this TV spot is that while it's obviously an ad for the NBA Finals, the tie-in works on a narrative level. It's essentially a Marvel short with some celebrity and sports cameos (and even a reference to Tony's fallout with Steve Rogers from Captain America: Civil War).
The story is pretty simple: Tony Stark is planning an NBA watch party and he tasks Happy Hogan with executing it. He orders him to invite "the kid," Peter Parker, and Happy begrudgingly does so. But later, as Peter excitedly makes his way up to the watch party, Happy turns him away, demanding that he pick up crackers for Tony. On the way, Peter stops a robbery (naturally) and runs into DJ Khaled while waiting in line at the convenience story. When he finally arrives back at Avengers Tower, he recognizes someone at the party, yelling, "MJ!" This is a red herring, as Peter sees Magic Johnson, not Mary Jane Watson (commonly known as MJ), the famous love interest of Spider-Man who was played by Kirsten Dunst in the Tobey Maguire movies. But it turns out that Peter's struggles were all for naught — the crackers were for Happy and not Tony, who is watching the game from courtside seats.
While the TV spot is a clever tie-in with the NBA Finals (the Cleveland Cavaliers face off against the Golden State Warriors in Game 5 tonight), it also touches on the ongoing relationship between Peter Parker and Tony Stark. Much of Spider-Man: Homecoming seems to follow Peter's attempts to prove to Tony that he is a  successful superhero worthy of the suit that was gifted to him. Therein lies the tension: while Peter works his butt off to prove himself, Tony hardly pays attention to him.
Spider-Man: Homecoming hits theaters on July 7.