'American Gods' Review: 'A Prayer For Mad Sweeney' Demands Sympathy For The Leprechaun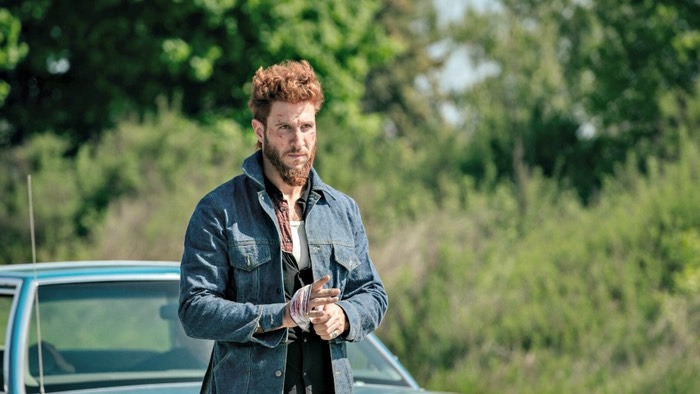 (Each week, we'll kick off our discussion of American Gods by answering one simple question: which character do we worship this week?)After the ultimate show of strength, as Mr. Wednesday sliced the head off of another god with a sword as big as himself, American Gods gave us its most tender episode of the show to date. "A Prayer For Mad Sweeney" takes us to Ireland in this grim fairytale, bringing Mad Sweeney under the microscope. Through Mr. Ibis's narration and another fantastic performance by Emily Browning, Mad Sweeney transforms from lovable fool to tortured soul.
Who do we worship this week? Mad Sweeney
This week's title character deserves all the praise, as we got to take a look at the leprechaun behind the angry, drunk, Irishman. Mad Sweeney has been American Gods' favorite punching bag. From picking a fight with Shadow Moon, to being knocked around a hotel room by Laura, Mad Sweeney might be the unluckiest character on the show. However, in "A Prayer For Mad Sweeney," we were introduced to the mysticism of his kind and the tragedy of his life. He was brought over to the New World by an Irish woman who had turned to the magic of the leprechauns, and the superstitions of the culture, through all of the hardships and successes of her life.
In last week's episode, Mad Sweeney shared more than one tender look in Laura Moon's direction, and through the duality of this particular episode, we can see that Laura probably reminds him of Essie MacGowan (Emily Browning). Throughout Essie's life, Mad Sweeney was there. He was a man in the prison cell next to hers, bringing some small amount of comfort in a trying time, and then again, in one of the more touching moments of the series, as Essie finally comes face to face with her leprechaun as he leads her soul away. This tenderness is reflected in the present, in a moment that truly deserves our worship: Mad Sweeney gives the coin, his precious luck, back to Laura so that she may continue her journey.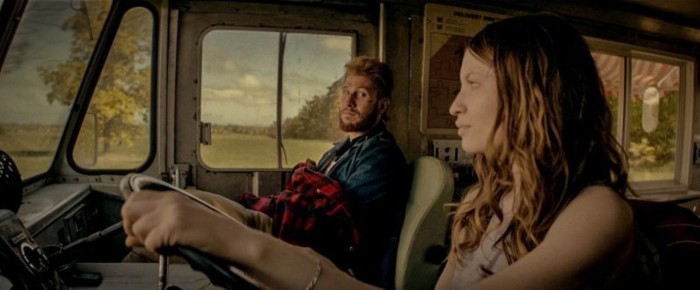 Redemption 
Last week, we saw a bigger split in our story as the second buddy road trip of the series took off with Mad Sweeney, Laura Moon, and Salim. This week, we see Salim, the only one with a real honest pursuit in mind, take off on his own to find his Jinn, once again leaving our favorite dynamic duo to their own devices. These characters provided us with a more internal and human quest to contradict the enormity of Wednesday's war. However, we weren't quite sure what that internal quest was, and this week we have our answer: redemption. A very human motive for two very supernatural beings, redemption is what is driving Mad Sweeney and Laura Moon both together and forward.
We already know that Laura is on a quest to show Shadow how much she loves him and redeem herself after her affair with Robbie. Mad Sweeney's redemption, however, has a much darker core. He tells the story about how he was a king that abandoned a war rather than face his own death. He owes a war. Even amongst those so damaged as Mad Sweeney, there is a loyalty to oaths in our older characters that is lost on the younger ones. More surprising than his story and fall from grace, is what he was willing to do for this war that he owes. After the ice cream truck crashes and Laura loses the coin, it is revealed that Mad Sweeney was not only the cause of the Laura Moon and Robbie's deaths, but that he did it under the orders of Mr. Wednesday.
He owes this war, so he will be Wednesday's errand boy, but taking part in the death of an innocent woman clearly had an impact on him, and could be a catalyst for his dark and bitter state. The Mad Sweeney that we see through the eyes of Essie MacGowan doesn't seem like the murdering type. He is far more sensitive than he let on, and in the brief smile he gives as Laura is honking the horn at him after he gave her back the coin, we see the weight of guilt lifting off of him. Not all of it, but it is a good start on his path to redemption.
A Place for Magic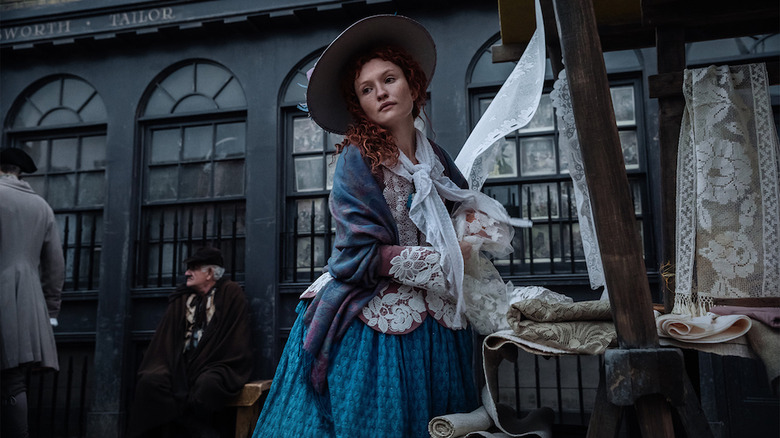 The story of Mad Sweeney and Essie MacGowan took us further into the grey area between gods and men. If people can bring to life a god simply from worshipping a piece of technology, and if the old gods can still exist through the whispers and stories of long ago cultures, then surely there is a place in this world for fairytales and magic. "A Prayer for Mad Sweeney," is a grim fairytale under the guise of an episode of American Gods. Taking this story to heart, it begins and ends with the opening and closing of Mr. Ibis's book of stories. With his narration guiding us through the tale, this episode is practically jumping up and down and screaming, "Once upon a time..."
There are repeated references to this world of magic. The fairies and leprechauns that Essie pays tribute to are not gods, they are mystical creatures that live in the mounds, not the clouds. We consistently see Essie telling the stories of the leprechauns to children, they are beings of childhood wonder. They are something to be grown out of but Essie, with all of her ambition and none of the opportunity, continues to believe in them until her last moments on her porch. Essie and Mad Sweeney share a moment of solace, coming to terms that America is not a place of magic. Like the old gods, the fairies and the leprechauns fall victim to the growing disconnect between the new world and the old world. Essie may have been an immigrant haunted by the horrors of her time, but her grandchildren knew nothing but the comfortable life on profitable land. Who needs magic, when everything is provided for you?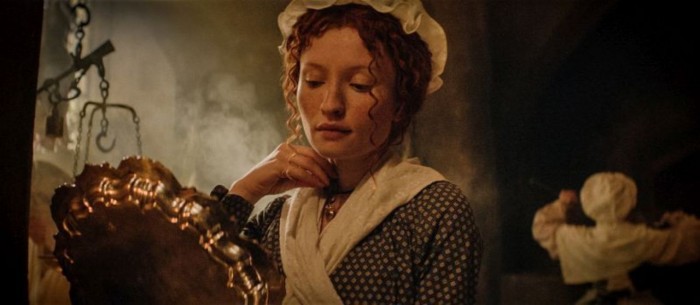 Americana Meets 18th Century London
American Gods might have the boldest music choices of any show airing today. Frequently letting the music guide the scene, and yet always using enough artistic discretion to keep it from being overpowering, the music sits comfortably on the line between awe-inspiring and way too much. "A Prayer For Mad Sweeney," is no different. Emphasizing America's early days as a dumping ground for the wretches of Europe, American God's chooses a soundtrack of classic Americana. Like Anansi in his colorful suit preaching to a ship full of slaves, American Gods once again bends time in half, connecting its old tales to it's modern motives, and manages to feel both tongue-in-cheek and powerful.
Working in conjunction with the music, the other thing making this single storyline episode come to life is the wardrobe. We have seen what the wardrobe department is capable of, particularly between Technical Boy and Media, but this episode stayed true to its desire to keep everything authentic, by gracing us with gorgeous period pieces and attention to detail, that not only is accurate for the time but accurate for the characters state and position in life. You needn't look any further than the Essie's dress to know how her life as a thief and con artist has paid off.
Adaptation Notes
We're going to talk book spoilers now. If you haven't read the novel, you'll want to stop right here.
Essie Tregowan became Essie MacGowan in the adaptation of her story, and with almost a full hour dedicated to her, she definitely got a longer run. In large part, I believe, to establish the newly created connection between Mad Sweeney's past and present. Also, Mad Sweeney mentioned that he is taking her to "House on The Rock as promised." Laura Moon certainly wasn't part of the gods council at the House on The Rock in the book, so it will be interesting to see what is up the sleeve of both the showrunners and Mr. Wednesday.
Boy howdy, the scenes for next week's season finale look fun. We are finally going to get more of Orlando Jones's Mr. Nancy, which we have all been waiting for. I am going to continue to keep my fingers crossed for the Tiger Balls story. Next week it appears we are going to get a whole lot of familiar faces in the strangest garden party ever, and also meet some knew ones, like Kristin Chenoweth's Easter.
Also worth noting, with references to the white buffalo this week and more scenes in the Bone Orchard in the previews for next week, the finale might also be delving deeper into Shadow's importance to the gods.