The Reason Chris Evans Signed On For 'Infinity War' And 'Avengers 4'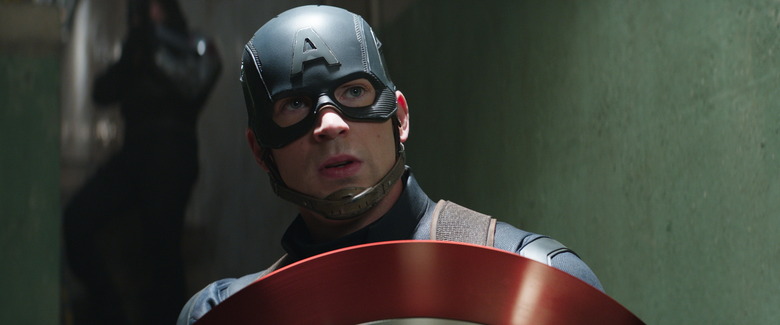 It's clear that Chris Evans is not enamored with being a big movie star — the Avengers: Infinity War star has spoken for years of leaving the acting business to go behind the camera and direct.
While he may or may not be quitting acting altogether, his days as Captain America are numbered. Though he is devoted to the character, Evans is eager to wrap up Steve Rogers' story in the next two Avengers movies, which promise to shake up the Marvel Cinematic Universe as we know it.
Chris Evans explained to English newspaper The Telegraph why he was initially resistant to playing Captain America for Marvel in the first place — even turning down the role when it was first offered to him. Why? Because it would have required him to commit to a six-movie contract and becoming the face of a massive superhero franchise.
"One of my biggest fears was that the movies were going to be good," he said. "Because if things worked out, I'd have to do all six of them."
But Evans eventually signed on to play the star-spangled hero in Captain America: The First Avenger, Captain America: The Winter Soldier, and Captain America: Civil War, as well as the first two Avengers films, and history spoke for itself. Now, Steve Rogers is one of the most popular characters in the MCU with some of the franchise's best films under his belt, and Evans frequently finds himself the winner in the battle of the Chrises.
But last year's Civil War would have been the end of Evans' six-movie commitment. When Marvel approached him to star in the next two Avengers film, initially a two-parter titled Infinity War, Evans suggested that he agreed to stay on board to wrap up Steve Rogers' story:
"I had six films in my Marvel contract, so I could have said after the third Avengers I was done, but they wanted to make the third and fourth Avengers films as a two-parter. They said they had so many other characters to fit in – Guardians of the Galaxy, Black Panther, Captain Marvel, Doctor Strange, Ant Man – and couldn't get them all into one movie. [I agreed] because it made sense. It's going to wrap everything up."
So after Avengers: Infinity War and the yet-untitled Avengers 4 hits theaters, the MCU as you know it will look completely different. With Evans leaving after the next character-packed Avengers movies, his Captain America will no longer be a part of the universe (barring a few future cameos). Iron Man and possibly Thor could also call it quits, with Robert Downey Jr. and Chris Hemsworth finishing their multi-film contracts after Infinity War and Avengers 4.
But fear not, the MCU is far from over. Avengers 4 and Guardians of the Galaxy 3 will purportedly launch a new phase for the cinematic universe: the Cosmic Universe. It makes sense why a hero who is just a kid from Brooklyn will be sitting that one out.