'Black Panther' Teaser Trailer: T'Challa Takes The Throne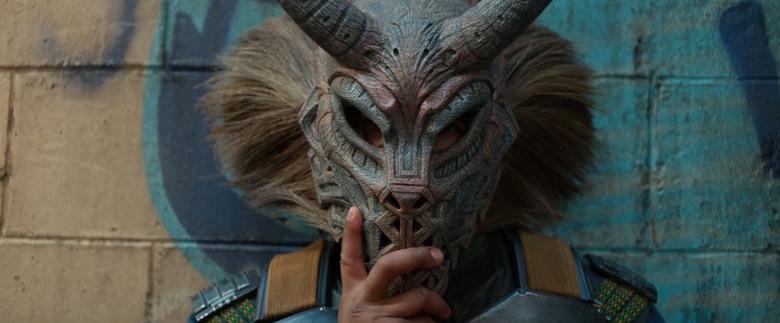 Ready to head back to Wakanda? Marvel Studios has finally unveiled the first teaser trailer for Black Panther, next year's superhero film directed by Creed and Fruitvale Station director Ryan Coogler. Anyone who's seen his previous work will not be surprised to learn that this movie looks excellent, so watch the first Black Panther teaser trailer for yourselves below.
Black Panther Teaser Trailer
Commentary from Peter Sciretta: aIt's interesting that Marvel opens the trailer with two vaguely familiar MCU characters, Andy Serkis as Ulysses Klaue (aka Klaw) talking to Martin Freeman as Everett K. Ross. The teaser trailer that follows is nothing like I was expecting this movie to look like and that's refreshing. The trailer mainly focuses on the technologically advanced hidden world of Wakanda and  Chadwick Boseman kicking ass as T'Challa aka Black Panther. Please leave your thoughts in the comments below.
—-
I'm reminded of one of my favorite lines from The Wire uttered by Michael K. Williams (who, now that I think about it, I'm surprised isn't in this movie also): "You come at the king, you best not miss." Seems like advice that this film's dual villains, Erik Killmonger and M'baku, aka Man-Ape, would be wise to take if they're looking to take down Wakanda's new king, T'Challa. If Black Panther can go toe to toe with Captain America, those guys should be a piece of cake...right?
Even before he was officially hired back in early 2016, we thought Coogler would be a perfect fit for this material, and I'm super excited to see how he brings the fictional African nation of Wakanda to life on the big screen after we got that quick tease of it at the very end of Civil War. And I'm thrilled to see star Chadwick Boseman, who made a big impact with a relatively small amount of screen time in that same film, lead his own story here.
Seriously, get a load of this cast: Boseman, Michael B. Jordan, Lupita Nyong'o, Danai Gurira, Martin Freeman, Daniel Kaluuya, Letitia Wright, Winston Duke, Angela Bassett, Forest Whitaker, and Andy Serkis. That might be the best non-Avengers group of actors Marvel has assembled for one of their movies so far.
Also, here's a brand new official synopsis that's a bit more detailed than the previous one:
Marvel Studios' "Black Panther" follows T'Challa who, after the death of his father, the King of Wakanda, returns home to the isolated, technologically advanced African nation to succeed to the throne and take his rightful place as king. But when a powerful old enemy reappears, T'Challa's mettle as king—and Black Panther—is tested when he is drawn into a formidable conflict that puts the fate of Wakanda and the entire world at risk. Faced with treachery and danger, the young king must rally his allies and release the full power of Black Panther to defeat his foes and secure the safety of his people and their way of life.
So, what do you all think about this teaser?
Black Panther hits theaters on February 16, 2018.