'Star Trek: Discovery' Producer Alex Kurtzman Explains Delay, Teases Celebrity Cameos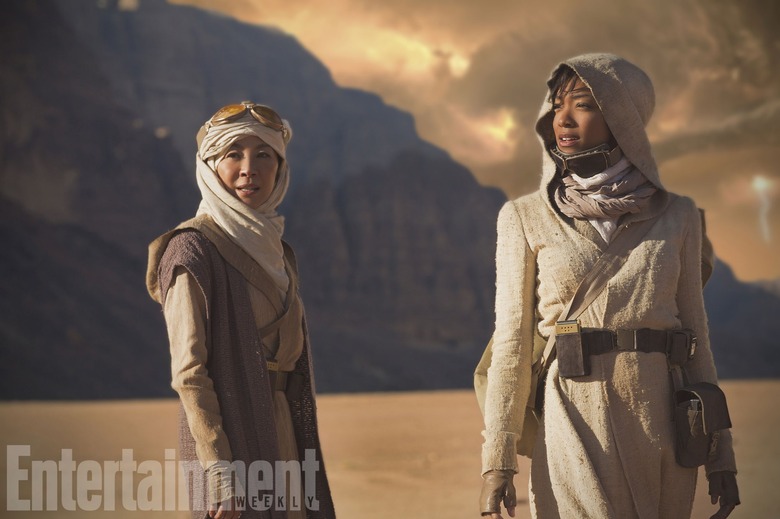 Star Trek: Discovery is premiering this fall — finally.
The newest Star Trek live-action TV series was announced to air on the CBS All Access streaming service back in November 2015 and had trouble getting off the ground, as showrunners Bryan Fuller left the project during a troubled development. But with a teaser trailer generating hype for the show, and a star-studded diverse cast including Chinese superstar Michelle Yeoh and The Walking Dead star Sonequa Martin-Green, it seems like Star Trek: Discovery can finally boldly go forward.
Co-creator and producer Alex Kurtzman dished on the reason for the show's delay, as well as the celebrity cameos that are peppered throughout the series.
In an interview with Collider, Kurtzman explained the long delay of Star Trek: Discovery, which was initially slated to premiere in January this year before CBS announced that it was "flexible" about the release date:
"We postponed our schedule because the truth is we did not want to put out something that was subpar, and as the vision expanded we started feeling like we weren't gonna be able to deliver the scope and the scale that was on the page. And CBS was extremely supportive in saying, 'Okay you know what, this is streaming, it's not like we have to beat out right away, let's do the best version of this, Trek is too important for all of us.'"
Despite the troubles behind the scenes and the disappointing fact that it'll be on a streaming service and not on TV after the first episode, there are plenty of reasons to be excited for Discovery: It is the first live-action Star Trek series since Star Trek: Enterprise went off the air from UPN in 2005. It has tons of talent behind and in front of the screen — the cast is rounded out by actors Rainn Wilson, Doug Jones, Jason Isaacs and more; and Fuller, Kurtzman, Akiva Goldsman, The Wrath of Khan director Nicholas Meyer and Star Trek royalty Rod Roddenberry, the son of original Trek creator Gene Roddenbery, have worked on the show. And it explores a new period in the Trek timeline, approximately 10 years before the original series' takes place.
Not to mention the celebrity cameos that Kurtzman also teased to Collider. More than a few famous faces will appear in Discovery, many of them huge fans of Star Trek:
"So many actors are fans. We literally got a list of them that were like, 'Here are people who said they want to be on Star Trek'. It was awesome... To just be in an episode or come in or out."
Who could the cameos be? Martin-Green's former Walking Dead costar Andrew Lincoln has said that he would like to appear on Star Trek as an alien, and the OG Captain Kirk, Williams Shatner, has expressed interest in doing a cameo through some time travel finagling. I'm sure we'll find out soon enough.
Star Trek: Discovery debuts sometime this Fall.