'Atomic Blonde' Clip: The Pleasure's In The Details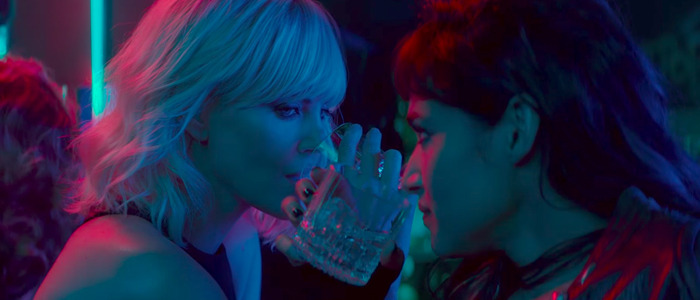 Focus Features has deemed the next few months an "#AtomicSummer" in honor of their upcoming spy thriller Atomic Blonde, and I'm willing to overlook that cheesy name as long as it results in us getting a better look at the movie. They kicked things off with a glimpse at one of the film's fight scenes, but their newly-released second clip slows things down a little and shows a different side of the spy game altogether, as Charlize Theron and Sofia Boutella's characters flirt in a crowded bar.
Atomic Blonde clip
I love the way that clip ends, and it makes me desperate to see more as soon as possible. To be frank, the girl-on-girl stuff here and depicted in the trailer are the parts of the movie I'm looking forward to the least, because I simply don't trust Hollywood filmmakers to be able to tackle a topic like a bisexual spy's love life without luridly leering at it like a teenage boy. However, from the sound of Jacob's review from this year's SXSW Film Festival, this may not be quite as eye-rolling as it initially appears.
But at the very least, we know the action will be the sort of realistic, hard-hitting, bone-crunching, knock-down-drag-out brutality we've come to expect from director David Leitch, a former stunt performer and stunt coordinator who's one half of the team responsible for giving us the gift that is John Wick.
Atomic Blonde blasts into theaters on July 28, 2017.
Oscar® winner Charlize Theron explodes into summer in Atomic Blonde, a breakneck action-thriller that follows MI6's most lethal assassin through a ticking time bomb of a city simmering with revolution and double-crossing hives of traitors.
The crown jewel of Her Majesty's Secret Intelligence Service, Agent Lorraine Broughton (Theron) is equal parts spycraft, sensuality and savagery, willing to deploy any of her skills to stay alive on her impossible mission. Sent alone into Berlin to deliver a priceless dossier out of the destabilized city, she partners with embedded station chief David Percival (James McAvoy) to navigate her way through the deadliest game of spies.
A blistering blend of sleek action, gritty sexuality and dazzling style, Atomic Blonde is directed by David Leitch (John Wick, upcoming Deadpool 2). Also starring John Goodman, Til Schweiger, Eddie Marsan, Sofia Boutella and Toby Jones, the film is based on the Oni Press graphic novel series "The Coldest City," by Antony Johnston & illustrator Sam Hart.  Kurt Johnstad (300) wrote the screenplay.