'Security' Trailer: Antonio Banderas Gets His Own 'Die Hard' In A Mall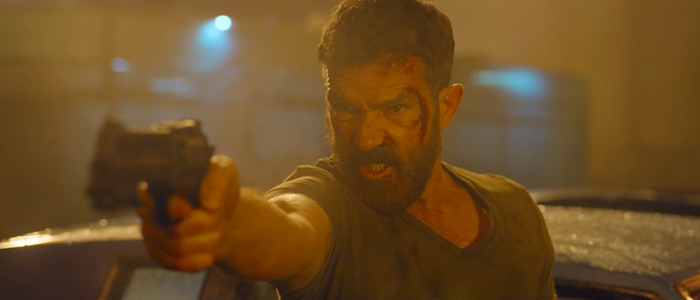 Antonio Banderas seems to have followed guys like Steven Seagal and Bruce Willis into the kind of direct-to-video movies that even cinephiles used to pick up from a Blockbuster Video shelf and wonder, "what the heck is this?" It's hard to blame him – the guy's gotta work, and if this is the only way he can do that, there are some larger issues at play here – but I'm still a little crestfallen to see him in something like Security, a new action thriller that looks like a cross between Die Hard and Paul Blart: Mall Cop.
Security trailer
Banderas doesn't seem to be doing any Blart-style physical comedy here, but after watching this trailer, I wonder if that might actually improve this kind of film. It might at least make it more watchable to a larger audience as a curiosity. As of now, I can't imagine anyone outside of the most addicted action movie junkies or Banderas obsessives (are there even such people out there?) would ever bother seeking this out.
Sure, the bit at the end with a four-wheeler looks ridiculous and we know that Ben Kingsley can chew scenery with the best of them as a Hans Gruber type villain, but even the quick cutting in this trailer can't hide the fact that the action choreography looks slow and amateurish. And really, in a movie with a story as basic as this one, the action is all that we're here to see. If it can't provide anything worthwhile in that department, it's going to be a rough 90 minutes. Alain Desrochers (Wushu Warrior, Nitro Rush, Bon Cop Bad Cop 2) directs from a script by Tony Mosher (Mechanic: Resurrection) and John Sullivan (Fear of the Dark).
Security opens in the UK in July, but it doesn't have a US release date yet.
An ex-special services veteran (Antonio Banderas), down on his luck and desperate for work, takes a job as a security guard at a run-down mall in a rough area of town. On his first night on the job, he opens the doors up to a distraught and desperate young girl who has escaped and fled from a hijacking of the Police motorcade that was transporting her to testify as a trial witness in a briefcase. Hot on her heels is psychopathic hijacker (Ben Kingsley), alongside his resourceful henchmen, who will stop at nothing to extract and eliminate their witness.