'Landline' Trailer: The 'Obvious Child' Team Reunites For A New Ensemble Dramedy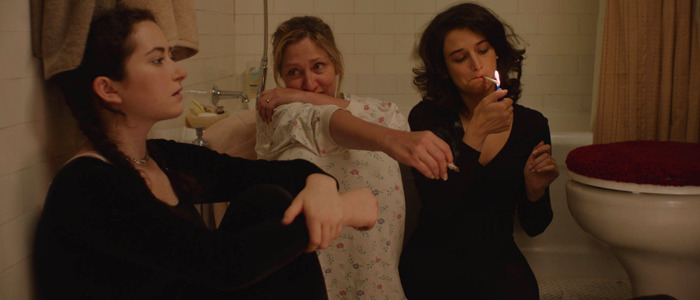 Director Gillian Robespierre's Obvious Child was such a pleasant surprise for a lot of people back in 2014 that news she was reuniting with star Jenny Slate for a new movie called Landline was greeted with cheers. Amazon Studios picked up the film and has debuted the first trailer for the dramedy, which is set in 1995 and focuses on a dysfunctional family with parents played by John Turturro and Edie Falco. But even with a cast made up of industry vets, it sounds like the film's largely unknown youngest cast member may be the one who steals the movie.
Landline trailer
Maybe this is just a poorly cut trailer, but I'm not really seeing much here that grabs me and makes me excited to check this out. But let's check in with some people who have actually seen the movie and see what they think...
Ethan Anderton and former /Filmer Angie Han saw Landline at this year's Sundance Film Festival and provided some quick mini-reviews as the fest was wrapping up. Here's Ethan's (mostly positive) take:
An honest portrayal of a dysfunctional family struggling to stay together. Shows each character's flaws and charms, which can sometimes be grating, but is more often endearing. It's almost like a spiritual sequel to Obvious Child about how hard it can be to keep a relationship stable. Jenny Slate is wonderful as always, but Abby Quinn is the standout.
Sadly, it seems like Angie didn't enjoy it quite as much:
As a huge fan of Gillian Robespierre's Obvious Child, I really, really wanted to love Landline. Alas, I could not. Everyone in this movie is so self-evidently miserable that I found it difficult to root for them, and its supposedly happy ending seems oddly naive and conservative. On the bright side, the relatively unknown Abby Quinn really seems like she's going places.
The rest of us will be able to see it and make up our minds for ourselves soon enough. Landline will be in select theaters on July 21, and expands everywhere on August 4, 2017.
When two sisters suspect their father (John Turturro) may be having an affair, it sends them into a tailspin that reveals cracks in the family façade. For the first time, older sister Dana (Jenny Slate), recently engaged and struggling with her own fidelity, finds herself bonding with her wild teenage sister Ali (Abby Quinn). The two try to uncover the truth without tipping off their mother (Edie Falco) and discover the messy reality of love and sex in the process. Set in 1990s Manhattan, Landline is a warm, insightful and comedic drama about a family united by secrets and lies, co-written and directed by Gillian Robespierre (Obvious Child).