POTD: 'Hellboy' Actors Ron Perlman And David Harbour Had Dinner Together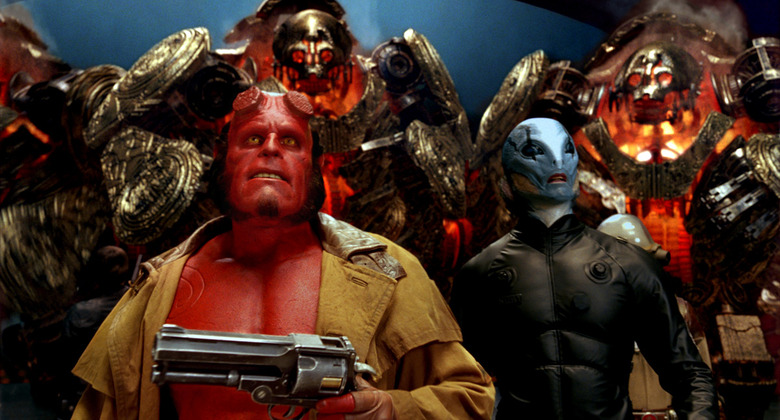 The news of director Neil Marshall (The Descent) and actor David Harbour (Stranger Things) teaming up for a Hellboy reboot was bittersweet. While Hellboy III appeared less and less likely as the years went by, and Guillermo del Toro confirmed it was dead before the reboot announcement, fans were still sad the final part of del Toro's trilogy won't ever see the light of day. Instead, the character is getting a fresh start with Marshall at the helm.
However, there seems to be no hard feelings between the old Hellboy and the new. Recently, in fact, Harbour and Perlman got together for dinner with comedian and actor Patton Oswalt to talk about the character (and probably a lot more than just that). Below, check out the Hellboy actors dining together in harmony.
Perlman has already had nothing but kind words to say about Harbour taking the role. "David Harbour is a good dude, man," he said last month. "I have nothing but love for that dude. I wish him nothing but the best when it comes to the retooling of HB." He sent more love Harbour's direction after their dinner on Facebook:
Not since Bill Clinton, Menachem Begin, and Anwar Sadat has there been such an epic summit yelding such a little result. Apparently Patton Oswalt aka balvenieboy thought it was a good idea to host David Harbour and yours truly for a detente dinner. The result: i gained 3 pounds and ruined my liver. Meanwhile, good luck kid! Signed, the babe.
Here's the photo Perlman shared of him with Harbour and Oswalt:
Harbour, who may start shooting Hellboy: Rise of the Blood Queen in September, discussed the dinner with Yahoo:
Patton brokered a peace; it was incredible. I had reached out to Ron because I'm a big fan of his. He's a really sweet guy and we wanted to just talk shop, and I just thought Patton Oswalt would be the perfect chaperone in case Ron and I started to make out or we started dancing too close or if we started getting in a fistfight.
The actor, like Perlman, is going to play Mike Mignola's character as a messy, hurting hero. "Hellboy is kind of a neurotic, messed-up individual who's destined for a horrible fate," he said. "Whenever he shows up and does the right thing, people throw beers at him and show up with pitchforks and he still manages to do the right thing. I think it's funny and it's sweet and it's weird, and hopefully, I can bring that to it as well."