Will Netflix Renew 'House Of Cards' For Season 6?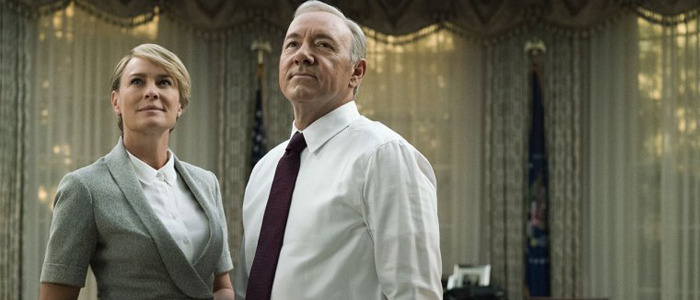 House of Cards recently dropped its fifth season on Netflix: not bad for a series that was originally only ordered for two seasons in an era before high-quality original programming on a streaming service became as common as breathing. The season 5 finale left viewers in a pretty tantalizing place, but will Netflix order House of Cards season 6? Read some comments from the show's new bosses about how the story will continue if it gets renewed, including a fun tease about Robin Wright's Claire Underwood being the one to break the fourth wall as the show progresses.
Warning: spoilers ahead for the end of House of Cards season 5. If you haven't caught up, turn back now.
Season 5 ends with Claire in the Oval Office as the new President of the United States, looking directly into the camera and saying, "My turn." THR asked Frank Pugliese and Melissa James Gibson, the new showrunners who took over from creator Beau Willimon, if they wrote the season five finale to serve as both a season and series finale:
Pugliese: Working on television, you have a sense that if it had to end there's a way to end it, but there is almost always a plan for what it would mean to keep going forward.
Gibson: But that's the trick. It has to feel like an organic ending and an organic payoff to the arc of the season and in this case, I think you could argue that it really could go either way, so we were happy to hopefully leave the viewers wanting more.
Personally, I gave up on House of Cards after season 3, but the idea of Claire running things is admittedly intriguing. I'm not sure it'll be enough to get me to resume watching, but since Robin Wright is the best, I have to imagine this is an exciting development for fans who've stuck around.
It's also cool to think about Claire breaking the fourth wall moving forward, since she's only barely done that over the course of the series thus far. Speaking with TVLine (via ScreenCrush), Gibson explained:
"We were trying, in a disciplined way, to navigate that shift at the end of last season [when Claire first talked to the camera] and not overplay it [this season]. But I think it's inevitable that that will need to be explored further [in Season 6].
The question is going to be how. I don't think she's going to do it the way Francis did it. How she does it could be really exciting ... Claire's needs from the audience are unique to her."
Are you still watching House of Cards? How did season 5 stack up against the first four? How many more seasons would you like to see?