Star Wars Bits: More Han Solo Insight, Finn Teases, Clone Wars Chats, And More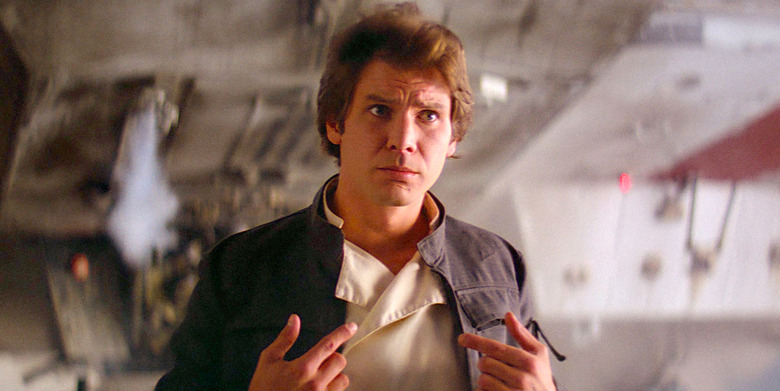 In this edition of Star Wars Bits:
Han Solo set descriptions and new details
A horrible theft at Rancho Obi-Wan for Collectors to watch out for
A couple of Finn teases from John Boyega
New Funko Darth Vader
And more!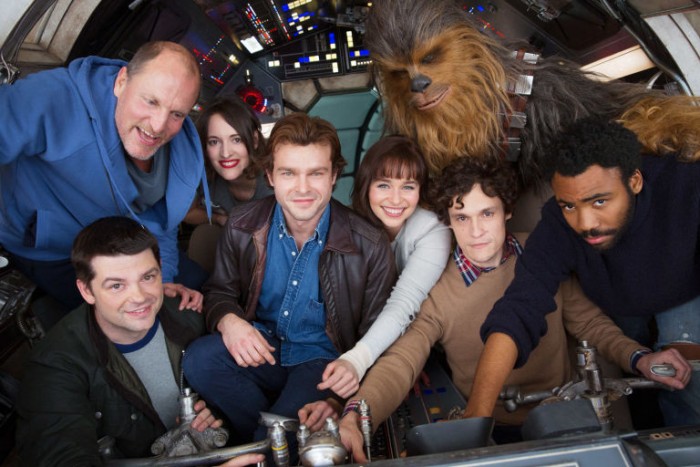 New images from the set of the untitled Han Solo movie continue to rock the heck out of a '70s aesthetic that should make original trilogy fans excited. The blue speeder he is seen sitting in thanks to these Daily Mail pictures (via StarWarsNewsNet) better be fast, because he's driving it on an Imperial base, with Imperial speeders, and what looks like some kind of new hovertank chasing after him.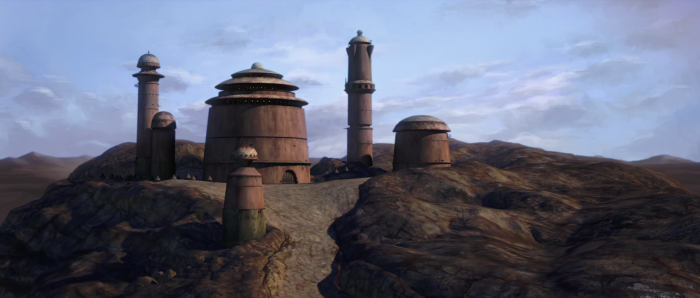 StarWarsNewsNet also had a fan who was visiting Fuerteventura, where they're shooting the film, write in with a description of what he witnessed in the Canary Islands. The set featured what looked like a palace, similar to Jabba's in the original trilogy, a couple run down tanks, and a large shield generator.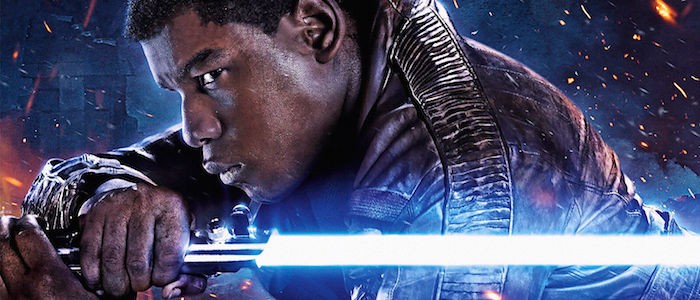 While Finn might not have been the "big deal" in the Resistance that he claimed during Star Wars: The Force Awakens, he actually will be in The Last Jedi. John Boyega told EW that he's a big deal now, but mostly for being the guy who got struck down by Kylo Ren (and surviving). He'll be wandering the Resistance halls saying things like:
"Yeah, I was there. Then the Falcon picked me up... Oh yeah, I knew Han Solo by the way. We were pretty close."
Proud owner of Finn's blaster ! Thanks to @riancjohnson !
A post shared by BOYEGA (@johnboyega) on
Since Rey's got the lightsaber, Finn needed a new weapon, and John Boyega showed it off on instagram in a boomerang, complete with some nice pew-pew visuals!
Privileged to attend a scoring session 4 #TLJ w/ @rianjohnson & @LauraDern-as John Williams works his magic! #EvenMyGoosebumpsHaveGoosebumps pic.twitter.com/zh2eThYwgd

— Mark Hamill (@MarkHamill) May 22, 2017
Watching John Williams at work is extraordinary. #thelastjedi pic.twitter.com/i78Dbo3Ej1

— Laura Dern (@LauraDern) May 23, 2017
Having seen John Williams conduct live at Star Wars Celebration, I get it – you want that experience as often as humanly possible, even if you're a couple of the stars of the movie he's currently scoring. Indeed, Mark Hamill, our Luke Skywalker, joined director Rian Johnson and newcomer Laura Dern for a scoring session, and now I'm jealous of them both.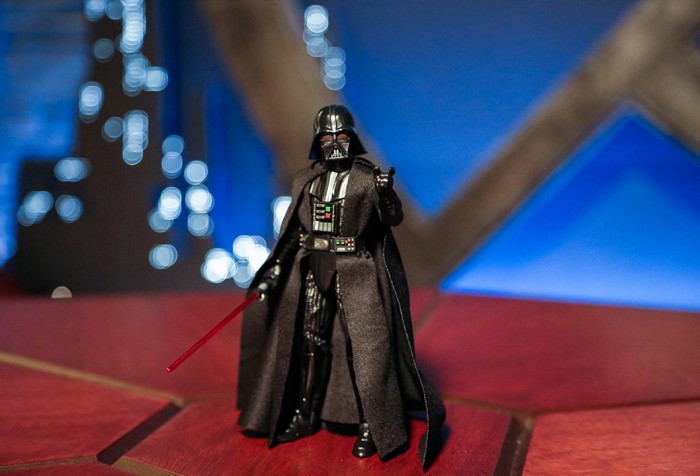 The official StarWars.com site has a look at how the 40th Anniversary black series Darth Vader figure from Hasbro came to be. It's "a Vader without any gimmicks," and a pretty cool behind-the-scenes look.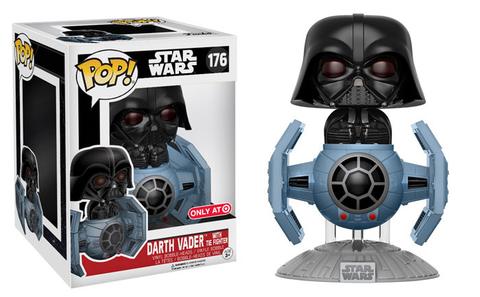 Speaking of Vader, a new POP figure is coming to Target in a couple of weeks featuring Vader in his custom TIE advanced. Guess collectors need to... stay on Target.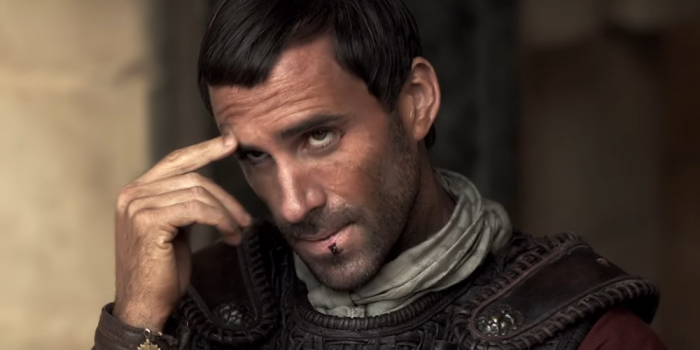 Now seeing success on The Handmaid's Tale, Joseph Fiennes talked with The Wrap about his near-miss in getting the role of Obi-Wan Kenobi for the prequels, which was reportedly down to him and Ewan McGregor (who would win the role). He thinks George Lucas's young daughter may have been why he didn't get it. When he was introduced to her, well, it didn't go well:
"His daughter turned around and said 'I don't like this guy. He's weird. I don't like him.' And that's how my audition went."
Family complete; and what an honour! @GeorgeLucasILM joins us to mark the occasion!#Renault40YearsF1 #StarWars40th pic.twitter.com/xRIWhbXrgU

— BWT Alpine F1 Team (@AlpineF1Team) May 28, 2017
Speaking of George Lucas, he spent Star Wars' 40th Anniversary weekend with Renault Sport F1, who had some Star Wars-inspired outfits for drivers, as one drove in a stormtrooper suit and one in a Rebel Alliance orange jumper.
Actor James Arnold Taylor, best known to Star Wars fans as the voice of Obi-Wan Kenobi on Star Wars: The Clone Wars (he also voiced Plo Koon and several other characters) debuted a new series called "Clone Wars Conversations," with his first guess, Anna Graves, the voice of Mandalorian Duchess Satine Kryze. It's a lovely and at times emotional conversation between the pair. Now to binge those episodes again.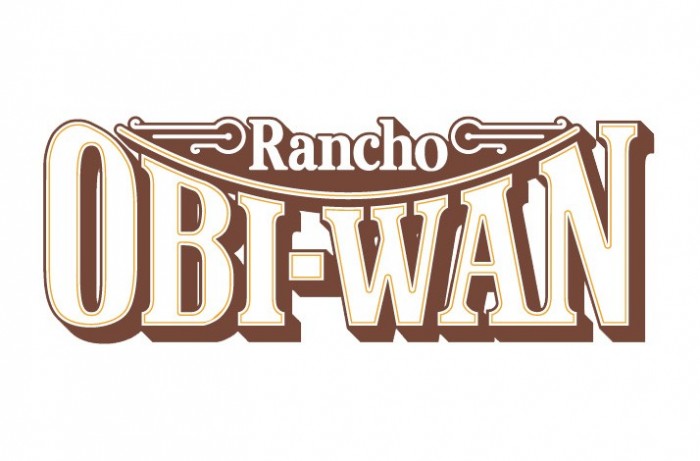 Steve Sansweet, one-time "Fan Ambassador" for Lucasfilm, now runs the Rancho Obi-Wan charity, boasting the largest collection of Star Wars memorabilia, and using it to help foster imagination and education in fans of all ages. He's also been the victim of Grand Theft, he revealed today, having $200,000 worth of collectibles stolen over the course of several months, and apparently perpetrated by a friend and fellow collector. The awful news comes with a plea for help tracking down as much of the collection as possible.