British Superhero Show 'Misfits' Is Getting An American Remake On Freeform, Which Is Probably A Bad Idea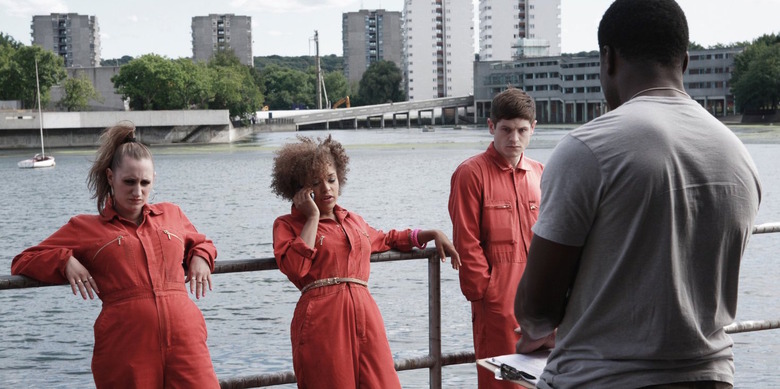 The original Misfits wasn't a spectacular show, but it was definitely a show the hooked and held onto your attention. Crude, violent, and bizarre, it felt like lightning in a bottle: a combination of a stellar cast, including a pre-Game of Thrones Iwan Rheon and a pre-Loving Ruth Negga, outlandish plots about teens who use their abnormal superpowers to get into dumb hijinks and have lots and lots of sex.
It was a magic that couldn't even be captured again when most of the original members left, with a second-gen cast anchored by the equally talented Joe Gilgun, who now appears alongside Negga on Preacher. The appeal of Misfits was that it went in bizarre places that mainstream superhero shows wouldn't dare dream, and all of the cast were game for it. Which is why the Freeform remake that was just announced feels like a bad idea.
Misfits will be adapted for American television by Freeform, the cable channel formerly known as ABC Family, and helmed by showrunner Diane Ruggiero-Wright of iZombie and Veronica Mars.
According to Deadline, four of the five lead actors have already been cast. Ashleigh LaThrop (Sirens) will play Alicia, "a spoiled, vapid, middle-class party girl." Tre Hall (Rebel) will play Curtis, "a talented and cocky football player with a promising career ahead of him who is used to everything going his way." Allie MacDonald (Orphan Black) will play Kelly, who has a violent temper. Jake Cannavale (Nurse Jackie) will play Nathan, a thief.
The roles are pretty similar to the original cast of Misfits, which featured Antonia Thomas as Alicia, Iwan Rheon as Simon, Lauren Socha as Kelly, Nathan Stewart-Jarrett as Curtis, and Robert Sheehan as Nathan. The only role the Freeform remake has yet to cast is Rheon's role of Simon — whose arc from creepy loner to sympathetic hero is difficult to play, to be sure.
The premise of the show will supposedly be similar to the U.K. version, which debuted on E4 in 2009 and ran for five seasons: a group of unlikable teen offenders sentenced to working community service are suddenly struck by a freak lightning storm, giving them powers that somewhat reflect their personalities — the party girl can turn people into horny sex slaves with just a touch; the loner becomes invisible; the fallen, regretful sports star can turn back time.
Why This Sounds Like a Bad Idea
The only difference that the American version will have — I'm guessing — is the inability to just go weird. There's a subplot where Socha's character has sex with a gorilla who has turned into human and a final battle in which the group go up against a Big Bad who can control milk. The show was unflinching in its depiction of sex and violence, and that was its whole appeal. I know that it sounds edgy for the sake of being edgy, but an American remake devoid of those elements will not be distinguishable from all the other teen superhero shows popping up in the woodwork: Gifted, Marvel's Runaways, Freeform's own Marvel's Cloak and Dagger and New Warriors. While Freeform has been attempting to separate itself from the family-friendly demographic of its former ABC Family label, it's still a channel for teens — one that probably can't abide by the crude weirdness of the original series.
It was inevitable that an American version of Misfits would be made — America loves adapting British shows and have a pretty good success rate with it – Shameless and The Office have far outstripped their predecessors. But for every Emmy-award winning American remake, there's your Skins or the IT Crowd, which fail to capture what made the original so great.
The American remake of Misfits originally was set up at Freeform for development a year ago via the deal Fake Empire had at ABC Studios. There's no information on when the series is set to air.