'Swedish Dicks' Trailer: Peter Stormare Gets Some Life Advice From Keanu Reeves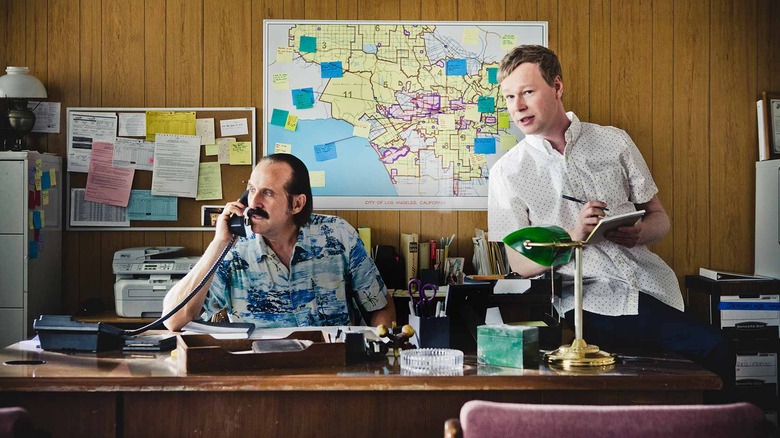 There's plenty of private eyes to hire in Los Angeles. The ones you'd probably want to go to are the "Swedish Dicks," an ex-stuntman (Peter Stormare) and a DJ (Johan Glans) with a dream. They stars of the Pop series probably aren't the best detectives L.A. has to offer, but they do have one thing going for them: they hang out with "special recurring guest star Keanu Reeves," who drops in on them throughout the first ten episodes of Swedish Dicks.
Below, watch the Swedish Dicks trailer.
The more Reeves and Stormare work together, the better. The two appeared together in Constantine and most recently in John Wick: Chapter Two. The two of them even train at the same gym, which is where Stormare told Reeves he had to get in on John Wick: Chapter Two. Only months after the sequel delivered, they're back in the comedy series, with Stormare and comedian/actor Johan Glans as the stars.
Stormare co-created the series with Glenn Lund. Swedish Dicks premiered last year on Viaplay, a Swedish streaming service. A month after it premiered, it was renewed for a season 2. "This might be the first time in my career that I can watch myself without throwing up," Stormare commented on the news of the series' renewal. The reviews were mixed, but the actor's chemistry with Glans was praised. The show looks broad, maybe even too broad, but its stars look like they could be fun together.
Just two weeks ago, season 2 was shooting on Hollywood Blvd. in front of the Egyptian Theater. Stormare was there, of course, smiling and taking selfies with anybody who asked. It was a pleasant sight.
Here's the official synopsis:
Starring Peter Stormare ("John Wick: Chapter 2," "Fargo," "American Gods") and actor/comedian Johan Glans (Best Male Comedian, "Swedish Comedy Awards") with special recurring guest star Keanu Reeves ("John Wick," "The Matrix"), SWEDISH DICKS is a half-hour single camera comedy about an aging ex-stuntman (Stormare) stuck in the past, and an overly optimistic Swedish DJ (Glans) stuck in the digital world. Together they get unstuck by forming the private detective firm 'Swedish Dicks' – solving some of the strangest and wildest cases L.A. has ever seen. The 10-episode first season features an array of guest stars, including Traci Lords ("Cry-Baby," "Melrose Place"), Margaret Cho ("Fashion Police," "Drop Dead Diva"), Anthony LaPaglia ("Without a Trace," "Frasier") and Eric Roberts ("The Dark Knight," "Suits").
Swedish Dicks premieres August 2, 2017 on Pop.