'Professor Marston And The Wonder Women' Teaser: Wonder Woman's Creators Get A Biopic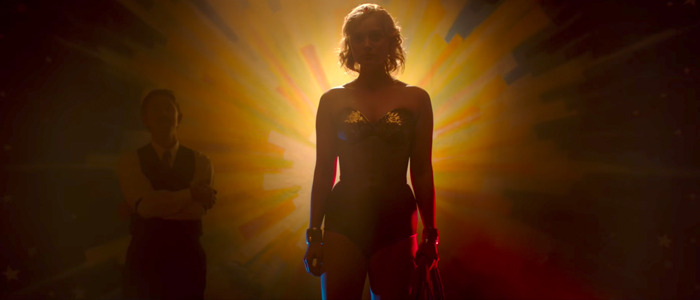 With Warner Bros. and DC Films' Wonder Woman kicking ass at the box office right now, there's no better time to capitalize on Wonder Woman Mania. And the savvy team at Annapurna Pictures knows that Diana Prince is currently at the center of the pop culture conversation, so they've released a brand new teaser trailer for a film called Professor Marston and the Wonder Women, a biopic about the three people responsible for creating DC's most famous female hero. Take a look at the enigmatic teaser, the comic book-inspired poster, and the official synopsis below.
Professor Marston and the Wonder Women teaser
Pretty cool, right? That's Connie Britton we hear questioning the movie's star, Luke Evans, who sounds as if he's playing Professor William Moulton Marston with a slight Christopher Walken accent. Marston is a fascinating figure: he was a Harvard psychologist in the 1940s who was living with his wife Elizabeth (Rebecca Hall) and the couple's lover, Olivia Byrne (Bella Heathcote). These are two of the women referenced in this movie's title, because they both had a tremendous impact on the character's creation: Marston is credited as Wonder Woman's primary creator, but technically, she was Elizabeth's idea in the first place, and her looks were based on Olive's physical appearance.
Moulton was also a feminist who coincidentally invented the lie detector test, and the idea of hiding the truth of his unconventional relationship with the women in his life from prying eyes seems to be a key factor in the story this movie is choosing to tell.
Here's the teaser poster: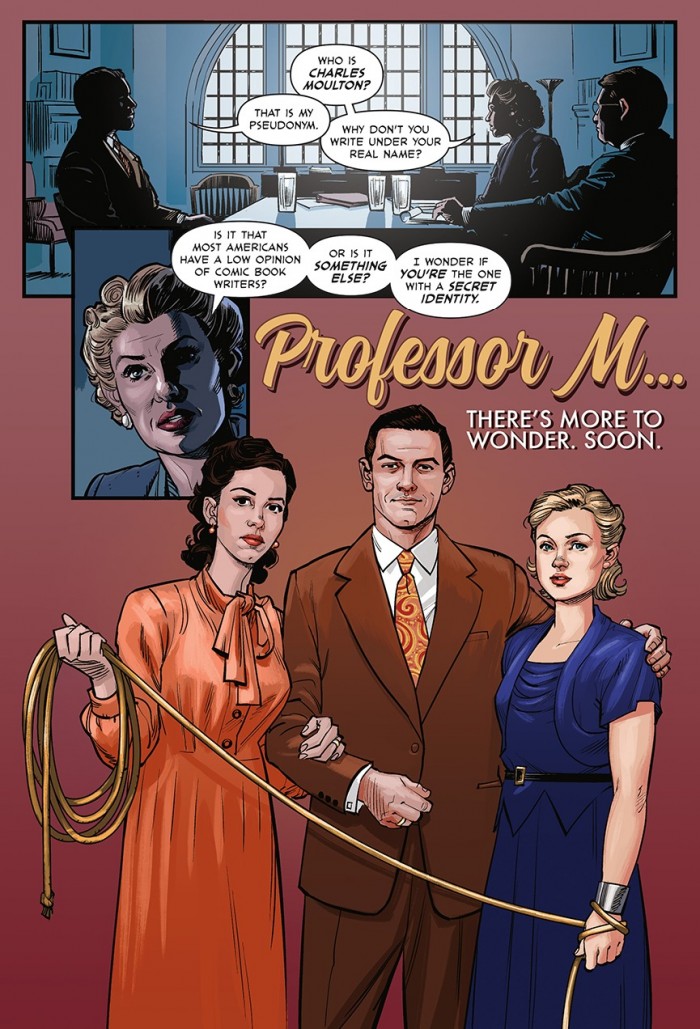 Something else worth noting: this movie hails from director Angela Robinson, a lesbian filmmaker who previously directed the underrated 2004 movie D.E.B.S. It's cool that this material is going to be explored from someone who doesn't come from Hollywood's default setting: a white male.
Professor Marston and the Wonder Women doesn't have an official release date yet, but I can't imagine it'll be long until we find out when we'll have a chance to see it.
"Professor Marston & The Wonder Women" is the story behind the creator of Wonder Woman and his unusual relationships that inspired the iconic super heroine. In a superhero origin tale unlike any other, this is the true story of 1940s Harvard psychologist Dr. William Moulton Marston, the inventor of the lie detector and creator of the iconic Wonder Woman, who defends his feminist superhero against charges of 'sexual perversity' while at the same time maintaining a secret that could have destroyed him. Unknown to others, Marston's inspiration for Wonder Woman was his wife Elizabeth Marston and their lover Olive Byrne, two empowered women in the field of psychology who defied convention, building a secret life together with Marston that rivaled the greatest of superhero disguises.