'Sharknado 5: Global Swarming' Is Coming This Summer, Read The List Of Cameos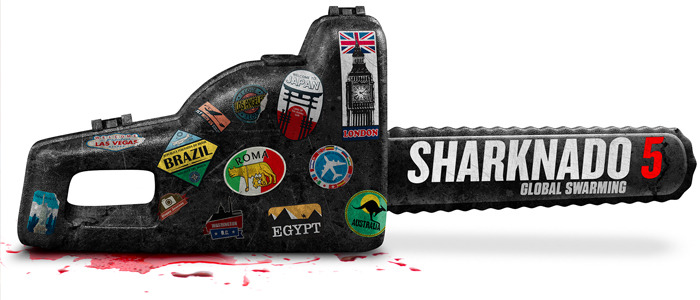 The world was a much simpler place back in 2013 when the first Sharknado movie debuted on Syfy and took social media by storm. Remember the days when we'd gather around the digital campfire just to make fun of a cheesy movie, not to commiserate about the potential end of the world as we know it? Ah, good times.
Fast forward to 2017, though, and the unlikely franchise is somehow still swimming along. Now there are as many Sharknado movies as there are Pirates of the Caribbean movies. Sharknado 5: Global Swarming is the new official title for the fifth entry, and below we have a list of cameos that...well, I was going to say you wouldn't believe some of these names, but if you're the type of person who enjoys the Sharknado movies without irony (no judgment here), you'll absolutely be able to believe these names.
First, feast your eyes on the synopsis:
In Sharknado 5: Global Swarming, the mission gets personal for Fin Shepard (Ian Ziering) and his bionic wife, April (Tara Reid) when their young son gets trapped in a traveling 'nado and transported all over the world. From London to Rio, Tokyo, Rome, Amsterdam and beyond, our globetrotting heroes will seek assistance from a highly-skilled squad of royals, scholars and Olympians, enlisting famous faces from news, entertainment, and sports in their most epic battle yet.
Sounds about right. As for the cameos? Like I said, they're appropriately ridiculous:
Fabio (Model) as the Pope
Tony Hawk (Professional skateboarder) as a masterful weapons operative strategist
Clay Aiken (Musician) as Llewelyn, a cutting edge technology genius
Olivia Newton-John (Musician) and daughter Chloe Lattanzi as Orion and Electra, two brilliant scientists who help defend Australia from a looming Sharknado
Bret Michaels (Musician) as a visiting artist that gets trapped in the storm
Margaret Cho (Comedian) as a fussy bride whose honeymoon is interrupted by sharks
Charo (Musician, Comedian) as The Queen of England
Gilbert Gottfried (Comedian) as storm chaser Ron McDonald
Today hosts Al Roker, Kathie Lee Gifford and Hoda Kotb as themselves
Olympic diving medalists Greg Louganis as Zico, a high-end art thief, and Tom Daley as himself
Olympic freeskiing medalist Gus Kenworthy and NBC News investigative correspondent Jeff Rossen as themselves
Porsha Williams (The Real Housewives of Atlanta) as Andromeda, an archeologist and member of the elite "Sharknado Sisterhood"
Tiffany "New York" Pollard (Flavor of Love) as Vega, a Brazilian black market artifacts dealer
Chris Kattan (

Saturday

Night Live) as The Prime Minister of England
Cat Greenleaf (Talk Stoop) and Dan Fogler (Fantastic Beasts and Where to Find Them) as themselves
Ross Mullan (Game of Thrones White Walker) as Dr. Wobbegon, a scientist who has made breakthroughs in meteorological studies to track Sharknado storms
Both the movie's title and its tagline ("Make America Bait Again!") were fan-sourced, and both are especially cringe-worthy when you consider their real-world inspirations and some actual decisions about global warming that were made this afternoon. Too soon, Sharknado. Too soon.
Sharknado 5: Global Swarming premieres on Syfy on Sunday, August 6 at 8pm.