'Murder On The Orient Express' Trailer: Everyone In This Star-Studded Cast Is A Suspect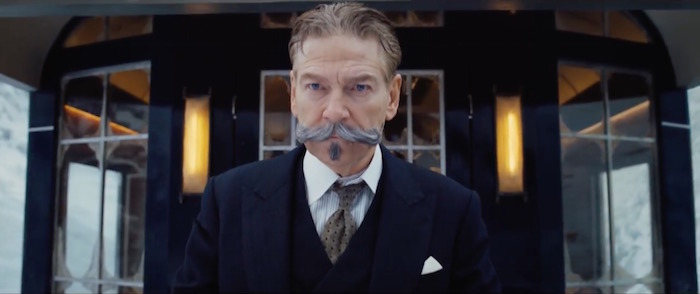 20th Century Fox has debuted the first trailer and poster for Kenneth Branagh's new film adaptation of Agatha Christie's classic whodunit mystery, Murder on the Orient Express. And while this train car is packed with a tremendously high-profile cast, the biggest star of them all may be the absurd mustache on Branagh's face as he portrays one of the most famous detectives in all of literature, Hercule Poirot. Climb aboard and watch the new Murder on the Orient Express trailer below.
Murder on the Orient Express trailer
That mustache is unquestionably ridiculous, but the talent assembled in this cast is no laughing matter. Along with Branagh (who's pulling double duty as the star and director), there's Penelope Cruz, Willem Dafoe, Dame Judi Dench, Johnny Depp, Josh Gad, Derek Jacobi, Leslie Odom Jr., Michelle Pfeiffer, Daisy Ridley, Michael Pena, and Lucy Boynton. I wonder if Branagh asked Mortdecai star Depp for any facial hair tips? Okay, okay, that was the last mustache joke...for now.
Here's the film's first poster: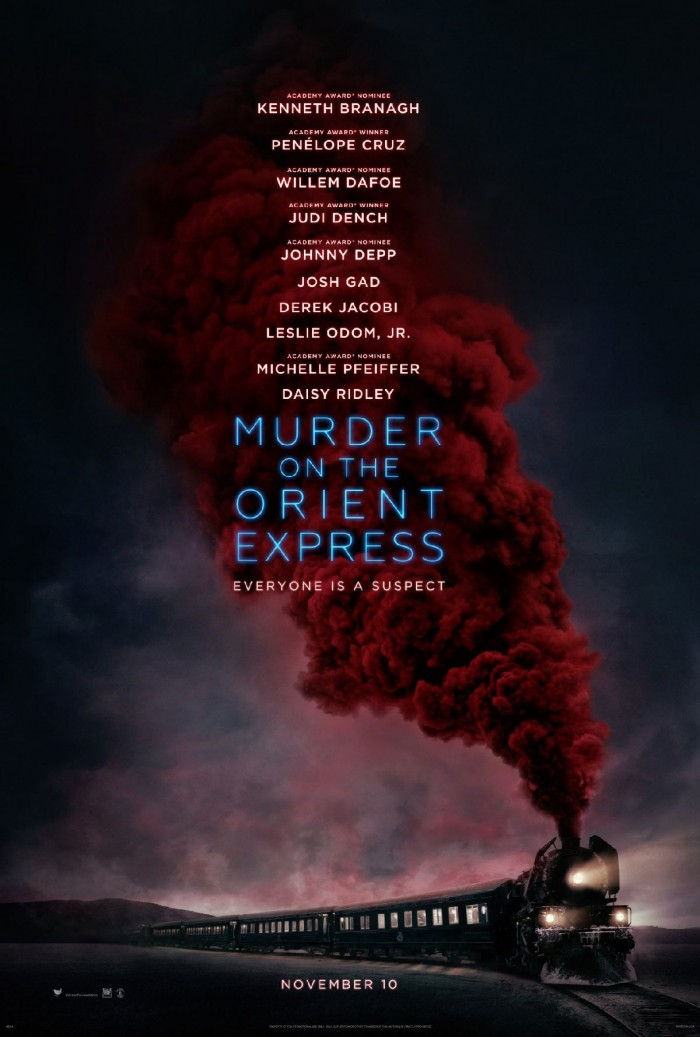 That blood-red smoke definitely doesn't bode well for the passengers. In addition to the trailer and poster, the studio has also unveiled a new viral website full of clues about the movie's characters, which you can piece together at cluesareeverwhere.com. I spent a few minutes messing around on it and couldn't get very far at all; I don't know whether that says more about me or the site itself, but you can be the judge. I'd be interested to know if any of you uncover anything fascinating on that site.
It's worth noting that director Sidney Lumet (12 Angry Men, Dog Day Afternoon, Network, Serpico) directed a similarly star-studded adaptation of Murder on the Orient Express back in 1974, with a cast that included Albert Finney, Ingrid Bergman, Sean Connery, Lauren Bacall, Anthony Perkins, and many more. Take a look at that trailer for comparison purposes:
There have also been two more recent adaptations, including a 2001 made-for-TV movie starring Alfred Molina and a Japanese mini-series version of the story.
Murder on the Orient Express chugs its way into theaters on November 10, 2017. Are you excited to discover a new take on a classic whodunit?
A lavish trip through Europe quickly unfolds into a race against time to solve a murder aboard a train. Everyone's a suspect as Detective Hercule Poirot sifts through 13 strangers to find the killer before another person ends up dead.