'The Little Hours' Trailer: The Convent Heats Up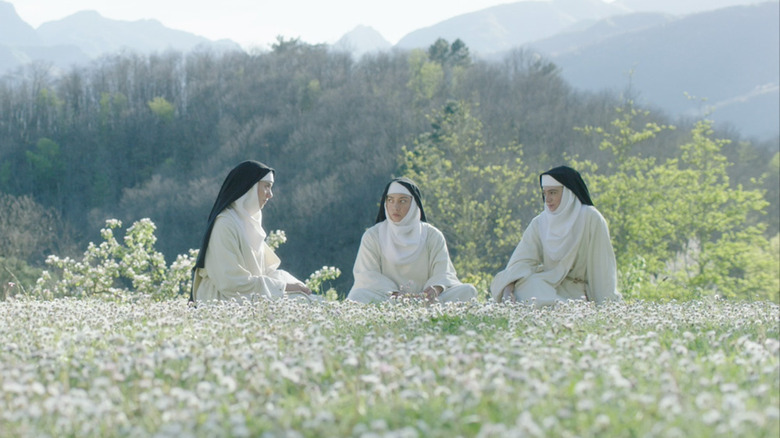 If your parents or grandparents are the churchgoing types, then The Little Hours is the number one movie to take them to see this summer! Alison Brie, Aubrey Plaza, and Kate Micucci play three charming nuns who are relatively nonchalant about the rules. They get a little rowdier in Jeff Baena's film when the hired hand Massetto (Dave Franco) arrives at the convent.
Below, watch The Little Hours trailer.
Little Hours is Baena's sophomore effort behind the camera. The co-writer of David O. Russell's I Heart Huckabees made his directorial debut with the 2014 zombie romance, Life After Beth, which also starred Plaza, who's following up her hypnotic and ferocious performance in Legion. Baena's first movie is a pretty good one, with some clever ideas, a good amount of laughs, and an allegory that rings true. The reviews were mixed, but critics were more fond of The Little Hours at this year's Sundance Film Festival.
The movie co-stars John C. Reilly, Nick Offerman, Fred Armisen, Molly Shannon, Jemima Kirke, Paul Reiser, and Adam Pally.
It's not as funny as the recent red band trailer for the film, but when is that ever the case? The green band isn't without some good laughs, though. Nothing really falls flat in the trailer, which is rare for a comedy trailer. What a cast, too! 80 minutes or so of this ensemble in a raunchy sex comedy from the co-writer of I Heart Huckabees is a movie I want to see.
Medieval nuns Alessandra (Alison Brie), Fernanda (Aubrey Plaza), and Ginevra (Kate Micucci) lead a simple life in their convent. Their days are spent chafing at monastic routine, spying on one another, and berating the estate's day laborer. After a particularly vicious insult session drives the peasant away, Father Tommasso (John C. Reilly) brings on new hired hand Massetto (Dave Franco), a virile young servant forced into hiding by his angry lord. Introduced to the sisters as a deaf-mute to discourage temptation, Massetto struggles to maintain his cover as the repressed nunnery erupts in a whirlwind of pansexual horniness, substance abuse, and wicked revelry.
Loaded with comedic talent and written with an off-kilter, yet knowing touch, The Little Hours is an immensely charming romp. Writer/director Jeff Baena's riotous follow-up to Sundance Film Festival favorites Life After Beth and Joshy has transferred the nervy comedic energy from his earlier work to the Middle Ages with hilarious results.
The Little Hours opens in theaters June 30.