'Wonder Woman' Extended Featurette: The Making Of An Origin Movie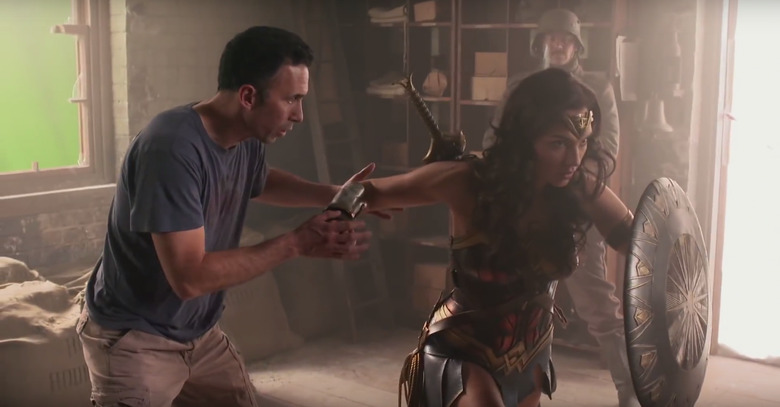 With the critical acclaim for Wonder Woman soaring high above other DC Extended Universe films, it's time to find out what went into the making of the critically acclaimed superhero movie.
A new extended featurette goes behind the scenes to delve into the making of Diana of Themyscira's origin story, from her life on the secluded Amazonian island to her fish-out-of-water experiences in World War I-era London — all told by stars Gal Gadot and Chris Pine, director Patty Jenkins, and the rest of the cast and crew behind this behemoth superhero movie.
"What is it to be a hero?" Jenkins asks near the beginning of the 13-minute Wonder Woman featurette. "The greatest thing about Wonder Woman is how good, and kind, and loving she is, yet none of that negates any of her power."
With that, we launch into an exploration of the complexities of Wonder Woman, who is both a refreshingly simple and complicated hero at the same time. Both Jenkins and Gadot make note of that, and comment on Gadot's dedication on bringing to life the naive, strong, and compassionate Amazonian warrior princess.
Gadot described how she had five months of working on horseback riding, martial arts, and training with a stunt team, but those weren't the only things that helped her embody the iconic female superhero.
It's a particular anecdote by Pine, who plays U.S. pilot and spy Steve Trevor, that shows how Gadot embodies the true spirit of Wonder Woman. Pine describes how they were shooting outside of Oxford and it was so freezing cold that even the male actors in their layers of jackets were chilly, but Gadot was out in her sleeveless, skirted costume, unaffected.
"Diana can't be cold," Gadot said in response, smiling. "She's Wonder Woman."
"I think because I was so focused on telling her story, and being her, that I literally depressed the physical challenges," she continues.
The cast also had nothing but praise for Jenkins, commenting on her energy, her dedication to the character, and her vision for the grand scope of the film. And grand it was, shooting in about 38 locations, the supervising location manager says, describing sets in Australia, Italy, and England.
While the scope and scale of Wonder Woman is impressive, it's the largely female cast of Amazonian warriors led by Connie Nielsen and Robin Wright, and its implications that inspired the cast — and to be honest, made me tear up a bit during the featurette too.
The scene in question involves a wide-eyed Gadot describing her reaction to seeing dozens of Amazons ride gloriously to battle, and how, in awe, she told Jenkins "This has never been done before."
No, it never has been done before.