'The Silent Man' Clip: Liam Neeson's Deep Throat Emerges From The Shadows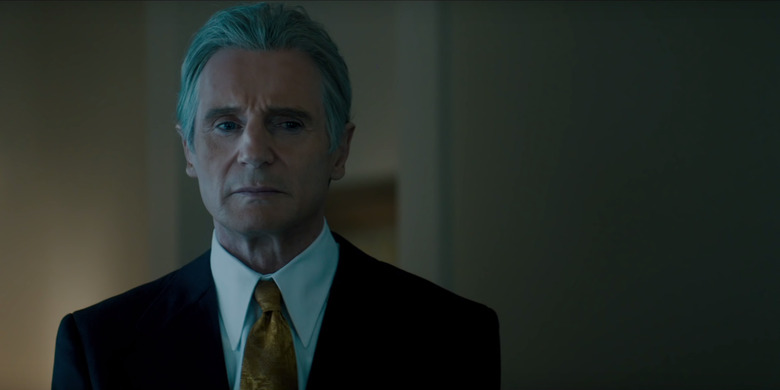 Liam Neeson speaks with a low, hushed tones in the clip for the aptly titled The Silent Man, a film based on the life of Mark Felt, the high-ranking FBI informant revealed to be the infamous "Deep Throat" in the President Richard Nixon Watergate scandal that was chronicles in the Best Picture nominated 1976 film All the President's Men.
In the timely film acquired by Sony Pictures Classics last week, The Silent Man follows the personal and professional life of Felt, who risked his family and career in the name of the justice and the truth.
The official identity of "Deep Throat," the informant who cracked open the Watergate scandal for Washington Post reporters Bob Woodward and Carl Bernstein in the 1970s and revealed a wellspring of corruption within Nixon's White House administration, was a mystery for decades after. That is, until 2005 when special agent Felt stepped forward to reveal himself as the whistleblower.
The Silent Man is based on his life, as well as his role leading up to and following Watergate.
See the official synopsis courtesy of Sony Pictures Classics below:
"Mark Felt was one of the most instrumental figures in American history and yet very little is known of him and the risks he took to reveal the truth. This is an incredible story well told by Peter and his creative team, with a top-notch cast led by an extraordinary performance from Liam. This film could be not more timely and relevant for audiences."
In addition to Neeson, the cast of The Silent Man is rounded out by Diane Lane, Marton Csokas, Josh Lucas, Tony Goldwyn, Michael C. Hall, Tom Sizemore , Wendi McLendon-Covey, Ike Barinholtz, Bruce Greenwood, Brian D'Arcy James, Kate Walsh, Noah Wyle, and Maika Monroe.
The Silent Man was written and directed by Peter Landesman, and couldn't come at a more politically relevant time, when President Donald Trump's administration faces an FBI probe into allegations of connections to Russia and the Kremlin. While many of those allegations are based around Trump's 2016 campaign team, the accusations keep coming — drawing more than a few comparisons on Twitter and the Internet to Nixon's own prolonged investigation surrounding Watergate.
With political turmoil becoming more frenzied by the month, The Silent Man is set for a September release.