Edgar Wright Recruits Everyone For A Totally Real, Not A Joke Simon And Garfunkel Song Title Universe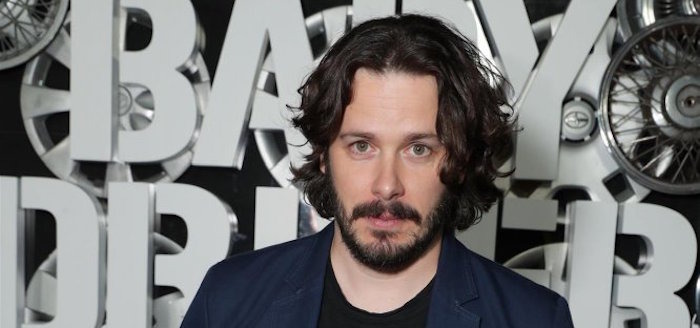 With the uncanny coincidence of two Simon and Garfunkel-inspired movie titles, Marc Webb's The Only Boy Living in New York and Edgar Wright's Baby Driver, coming out this summer, Wright made a tweet for the asking of others to join this accidental Simon and Garfunkel Song Title Cinematic Universe.
Amazingly, Wright managed to recruit Rian Johnson, Lin-Manuel Miranda, and Dwayne Johnson, in what possibly might be the best imagined cinematic universe ever. Though who knows, with projects started on Twitter
, the Simon and Garfunkel movie universe may not be a fake premise for long.
On Friday, the Baby Driver director noticed that both his and Webb's The Only Boy Living in New York both had summer releases — Wright's in June and Webb's in August.
"Where is the 'So Long Frank Lloyd Wright' movie?" he joked. From there, the tweet thread spiraled until he brought in Johnson, Miranda, Webb, and of course, Dwayne Johnson to star in I Am a Rock. The whole thing was chronicled and coined as the Simon and Garfunkel Song Title Cinematic Universe by Empire writer John Nugent.
Later on, Ron Howard jumped in on the Twitter action, requesting dibs on Bridge Over Troubled Water, Old Friends or The Boxer, to which Wright replied that, sadly, "Jim Sheridan beat us all to 'The Boxer' in 1997."
Jim Sheridan beat us all to 'The Boxer' in 1997. But I want to see your 'Bridge Over Troubled Water', preferably with old school GTA stunts.

— edgarwright (@edgarwright) May 27, 2017
All these were complete conjecture that we could barely visualize beyond a fun title, but artist Kevin Konrad Hanna was so inspired by the Rock's enthusiasm to be in I Am a Rock that he drew up an entire one-sheet poster based on the stylish marketing for Baby Driver, complete with an expanded cast including Chloe Grace-Moretz, Jessie McCartney, Jenny Slate, Jeff Bridges, and Octavia Spencer. And I got to say, I want this movie now.
Very much looking forward to the S&G expanded universe, gang. (Anyone already call The Boxer? Because dibs) ✨ pic.twitter.com/0NvYEnKlue

— Kevin Konrad Hanna (@frogchildren) May 29, 2017
It's all fun and memes on Twitter, of course, with a joke idea like a Simon and Garfunkel Cinematic Universe rarely expanding beyond a cute article or two. But there's recent evidence that a Twitter meme can become a real, breathing project.
In April, Twitter got a hold of a picture of Rihanna and Lupita Nyong'o
at Miu Miu fashion show in 2014, looking for all intents and purposes like a glamorous con artist and her hacker sidekick. The idea went viral, grabbing the attention of Nyong'o and Rihanna, who happily said they'd star in this movie. Then things took off when Ava Duvernay proclaimed that she would love to direct it, with Insecure creator Issa Rae volunteering to write. It seemed like an Internet fever dream, until it was announced in May that these four were set to make the project for
.
So you see, if a fashion show meme can become a Netflix movie directed by an acclaimed director, anything can happen. Including a Simon and Garfunkel Cinematic Universe. It could become like the Cloverfield universe, where all the movies are only thinly related, except by their title! Let this happen, Twitter gods.