A City Is On The Move In Peter Jackson's 'Mortal Engines' Concept Art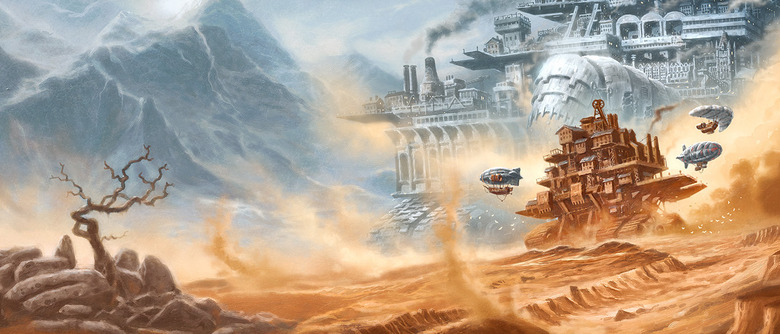 Author Phillip Reeve's four-part Predator Cities book series isn't messing around when it comes to its title: in the future depicted in the novels, cities have become actual predators. Every city on Earth is now on wheels, constantly cruising around looking for smaller cities to consume and absorb.
The first book in that series, Mortal Engines, is getting a film adaptation from producer Peter Jackson and some of his The Lord of the Rings collaborators, and now Jackson has shared the first piece of Mortal Engines concept art with fans.
Jackson revealed the artwork on his Facebook page. Click on the image below to take a closer look: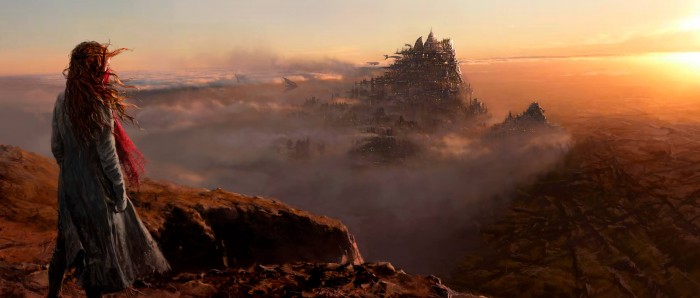 That's one of the big cities churning its way across a wasteland as Hester Shaw, one of the protagonists, looks on. If you look closely, you can also see some aircraft circling above in the clouds. Anyone who's watched the behind-the-scenes documentaries about the making of The Lord of the Rings knows that Jackson and his team adore making and sharing concept art, so I imagine this is the first piece of many that we'll see before the film hits theaters.
Last year, the filmmaker announced this project and described a bit of the plot.
If you haven't read the books, you should. They present a stunning look into the future, when all of Earth's major cities are now mounted on wheels, roaming across the landscape as massive "Traction Cities". Our society has build itself on the principals of Municipal Darwinism – this basically involves the bigger cities hunting down, and consuming, the smaller ones. And that's only the backdrop to an original and emotional personal story.
Philip Reeve has created a range of intriguing characters, following their adventures in our strange future world through four books – "Mortal Engines", "Predator's Gold", "Infernal Devices" and "A Darkling Plain".
The moment we read these novels, we knew what exciting movies they'd make. I literally can't wait to see them!
The "we" he mentions there include his wife and producing partner Fran Walsh, as well as Philippa Boyens; all three of them wrote The Lord of the Rings movies together, and they took on writing duties for Mortal Engines as well. Jackson and Walsh will produce, while Boyens will co-produce. Christian Rivers, who won an Oscar for his work on the visual effects for Jackson's King Kong, is making his directorial debut here.
Last month, LOTR alum Hugo Weaving joined the cast, which also includes Stephen Lang (Avatar), Robbie Sheehan (The Mortal Instruments: City of Bones), Hera Hilmar (who's playing Hester, the female lead pictured in this concept art) and Ronan Raftery (Fantastic Beasts and Where to Find Them).
Mortal Engines opens in theaters on December 14, 2018.