Val Kilmer Has The Need To Return As Iceman In 'Top Gun 2'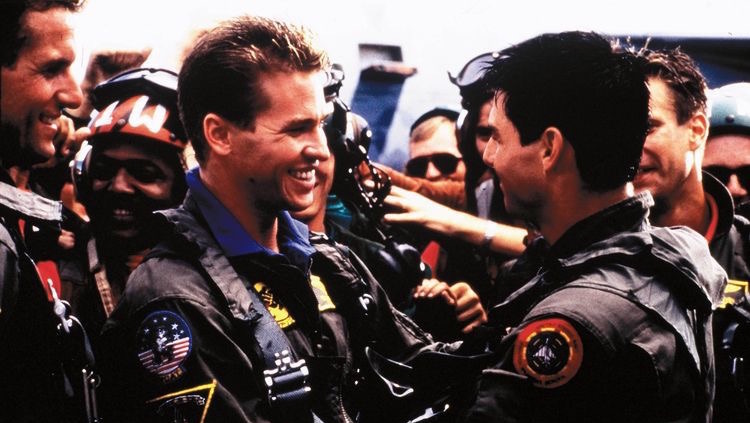 Top Gun is coming back to theaters with a sequel, which means the return of Tom Cruise as Maverick, the (hopeful) return of latent homoeroticism, and maybe the return of Val Kilmer's Iceman. At least, Kilmer says he's ready to reprise his role for Top Gun 2.
The sequel to 1986's Top Gun was re-confirmed by Cruise earlier this week, and while a cast and director have not yet been announced, Cruise has said that he'll begin filming "sometime next year." So with details for Top Gun 2 in the dark, Kilmer took to social media to make his appeal for Iceman's return to Cruise.
Kilmer donned an Iceman T-shirt and sunglasses (though sadly, not aviators) in a selfie that he posted on Twitter with the caption, "I'm ready Tom! Still got my top gun plaque! Still got the moves! Still got it!"
friends said it's official – #TOPGUN2 was announced today. I'm ready Tom- still got my top gun plaque! Still got the moves! Still got it! pic.twitter.com/2fLO1uJhRU

— Val Kilmer (@valkilmer) May 24, 2017
The fact that Kilmer has an Iceman T-shirt is positively delightful, but the fact that he has a Top Gun plaque is even better. What is this Top Gun plaque? Was it a plaque that they gave to all the cast members of Top Gun back in the '80s? Did Kilmer steal it off the set? Or is this a custom-made plaque that he ordered himself?
Either way, Kilmer is almost adorable in his enthusiasm for this long-gestating sequel, which has been in development for nearly three decades. It nearly got made in 2012 with director Tony Scott at the helm, but his tragic suicide put a halt to the project. Then the sequel got off the ground again in 2015 when producer Jerry Bruckheimer hired a screenwriter and David Ellison's Skydance signed on to produce.
Kilmer played the cool rival to Cruise's hothead young pilot Maverick, whose reckless attitude stirred things up when he arrived at the Top Gun Naval Fighter Weapons School. Their two characters graduated from flight school at the end of the first film, though not without sharing their fair share of icy stares, homoerotic tension, and shirtless volleyball games. In fact, let's just watch that volleyball scene again.
Top Gun 2 probably won't bring back that volleyball scene, though hopefully it'll bring back the sexual tension between Iceman and Maverick (It's there! I believe it!). Since they're three decades older, it may entail their characters becoming instructors at Top Gun, perhaps as competing teachers. Perhaps their rivalry will continue as flight instructors, until their tension comes to a boiling point and the homoerotic subtext becomes text.
Um, anyways, Top Gun 2 will reportedly start filming in 2018.