A Bunch Of Insecure Men Are Upset Over Women-Only 'Wonder Woman' Screenings [Updated]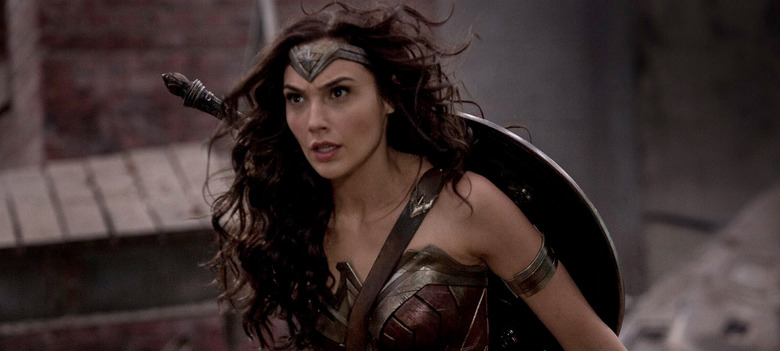 Update: The Alamo Drafthouse has issued the following statement: "Obviously, Alamo Drafthouse recognizes 'Wonder Woman' is a film for all audiences, but our special women-only screenings may have created confusion – we want everybody to see this film." The original article follows.
There are many institutions that have been men-only: treehouses, men's clubs, the White House. But when the ladies get a special women-only event, it raises a huge outcry from — who else? — the men.
This week, an Alamo Drafthouse movie theater in Austin, Texas announced that they would hold a special women-only screening of Wonder Woman — a movie about an iconic female superhero who may hold some importance to women of all ages. But that doesn't matter to the men of the Internet, because they raised a ruckus about being excluded from something for once. And their cries of "discrimination!" were only met with a sold out first screening, an announced second screening, and an expansion to other Alamo Drafthouse theaters across the country. You sure showed them, men.
Wonder Woman is the first major female superhero to get a solo movie, and the first female superhero to headline a film in over a decade. She's been a staple character of DC Comics for 76 years and this will be her big screen debut — meanwhile Superman and Batman have each had about seven solo movies since their inception. io9 counts 130 superhero films total since 1920, of which only eight are led by women. In other words, it's a men's club.
It's no surprise that this is a big deal for women, as Wonder Woman is a female and feminist icon who is one of the few strong fictional female characters that women have to look up to. So the Alamo Drafthouse Austin's Wednesday announcement to only allow female and female-identifying audiences into a special screening for Wonder Woman is a lovely show of appreciation and solidarity for which they received much praise from women across the Internet.
Here's how they described the event:
"Apologies, gentlemen, but we're embracing our girl power and saying 'No Guys Allowed' for one special night at the Alamo Ritz. And when we say 'Women (and People Who Identify As Women) Only,' we mean it. Everyone working at this screening — venue staff, projectionist, and culinary team — will be female."
Naturally, the angry comments started flowing in, with men on Facebook and Twitter accusing Alamo Drafthouse of everything from "reverse sexism" to "misandry." One Twitter user even claimed that this "gimmick" would never fill seats. He was wrong. They sold out tickets and had to announce a second screening to fill the demand.
Alamo Drafthouse Austin's Facebook thread is great just to read their snarky comebacks to the enraged male commenters — at one point they responded to someone asking if they've ever done a male-only screening with "We've never done showings where you had to be a man to get in, but we *did* show the Entourage movie a few years ago."
In a statement to Mashable, Alamo Drafthouse said they were so pleased with the reactions to the Austin screening that they plan to expand to their Dallas, Austin, and DC locations, and donate proceeds from ticket sales to local women's charities:
We are very excited to present select, women-only Wonder Woman screenings at Alamo Drafthouse. That providing an experience where women truly reign supreme has incurred the wrath of trolls only serves to deepen our belief that we're doing something right.
As a result, we will be expanding this program across the country and inviting women everywhere to join us as we celebrate this iconic superheroine in our theaters.
Now that's justice.