T.J. Miller Is Leaving 'Silicon Valley', Won't Return For Season 5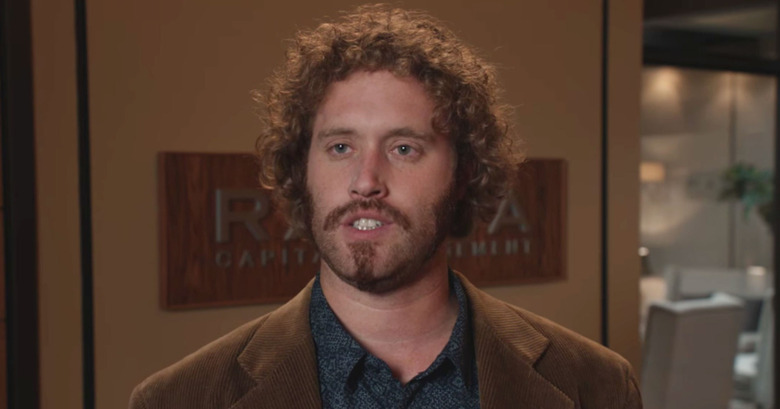 Here's a classic "good news, bad news" situation: HBO's hilarious tech comedy Silicon Valley has been renewed for a fifth season, but T.J. Miller, who plays the foul-mouthed Erlich Bachman, is officially leaving the series. The era of Bachmanity is over.
The Hollywood Reporter has a statement from HBO addressing TJ Miller leaving Silicon Valley:
"The producers of Silicon Valley and T.J. Miller have mutually agreed that T.J. will not return for season 5. In Erlich Bachman, T.J. has brought to life an unforgettable character, and while his presence on the show will be missed, we appreciate his contribution and look forward to future collaborations."
Well, this news is as unfortunate as Erlich's facial hair choices. Miller brought a gut-busting vulgarity to the series that none of the other main cast members have, and his character's interactions with Jimmy O. Yang's Jian Yang have been the highlight of this season for me so far. The entire group's dynamic will be thrown off by Erlich's absence. Although often portrayed as a moron, he's fairly important to the grand scheme of the show since he owns the house that the main characters live in and he operates the incubator that contains their tech companies.
Plus, the most recent episode saw the departure of Matt Ross's disgraced Hooli founder Gavin Belson, who gave an important patent to the Pied Piper team before jetting off to do some soul searching in the wake of his ousting from the company he helped build. With the 2014 death of actor Christopher Evan Welch, who played Hooli co-founder Peter Gregory, this marks the third major cast member to leave the series. (Though, to be fair, Gavin Belson's fate is unknown and he could easily resume his normal role on the show, maybe even as soon as next week.)
But it sounds like Miller is more interested in pursuing his burgeoning film career than getting complacent in an episodic television series. The Playlist points us to an interview the actor recently gave to The Daily Beast, in which he said:
"I feel absolutely embarrassed to admit that being on a television series that looks like it's going to exist in perpetuity until Mike Judge and Alec Berg want to end it — I'm embarrassed to say that it's easy to slip into autopilot if you're playing a character for years. Whereas with [the Kristen Stewart movie] Underwater, which I'm filming right now in New Orleans, I have to get my s*** together and be that fucking person and then it's over at the end of May. The movie's made, it's done, I move on to the next thing."
Miller will certainly be keeping busy on the film front, with Deadpool 2, Ready Player One, and more coming up soon. He'll next be seen in a stand-up comedy special entitled Meticulously Ridiculous that hits HBO on June 17 at 10pm.
Silicon Valley airs Sunday nights at 10pm on HBO. Make sure you're reading our weekly reviews if you're not already.