'Shimmer Lake' Trailer: Another Heist Gone Wrong You'll Want To See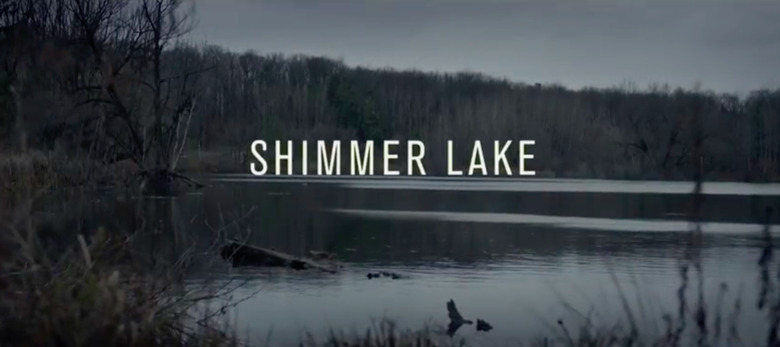 Shimmer Lake is one of the funniest thrillers in recent memory. Oren Uziel's directorial debut, which plays out in reverse time, has a ton of laugh-out-loud moments to go along with some bloodshed and betrayal. It's a story of a heist gone wrong in a small town where everybody knows everybody and, from beginning to end, it keeps you laughing and on your toes.
Below, watch the Shimmer Lake trailer.
Here's the logline: Unfolding in reverse, this darkly comic crime thriller follows a local sheriff hunting three bank robbery suspects, one of whom is his brother (Rainn Wilson). Benjamin Walker, known for Abraham Lincoln: Vampire Hunter and American Pyscho on Broadway, stars as the local sheriff. The film takes place over the course of a handful of days and follows a few principal characters, played by Wyatt Russell (Everybody Wants Some!!), Ron Livingston (The Conjuring), Rob Corddry (Children's Hospital), Stephanie Sigman (Miss Bala), Adam Pally (Happy Endings), and John Michael Higgins (Pitch Perfect).
The 83-minute movie is contained and so tightly-wound. The trailer gives some idea of what to expect but does an excellent job of spoiling nothing. Tonally, it's a bit tough to communicate what the movie is in under two minutes. The trailer doesn't adequately convey how funny Shimmer Lake is, how intensely real these characters feel in some silly situations, or its earned sense of sorrowfulness, but at least it doesn't spoil any of the fun.
There are a few familiar elements in the trailer, but Uziel manages to make them fresh. What you anticipate from a crime story like Shimmer Lake isn't always what you get from the movie. The writer-director, in some playful and pitch dark ways, subverts expectations, especially when it comes to his characters. They all reveal themselves to be far more than what they appear to be at first glance.
Uziel's past credits include 22 Jump Street and Freaks of Nature. A major upcoming credit of his is God Particle, the third film in a series of Cloverfield-related sci-fi pics. He wrote it after Shimmer Lake, and before 10 Cloverfield Lane came out. The writer recently told Collider the Bad Robot-produced sci-fi movie was rewritten during production, but it sounds like not much changed and it naturally fit "the expanded Cloverfield universe."
God Particle doesn't come out until October, but you can and should watch Shimmer Lake when it hits Netflix on June 9. It's a taut, funny, and surprising thriller. I can't recommend it enough.