'Castlevania' Teaser: Netflix Taps Into Nintendo Nostalgia For Animated Series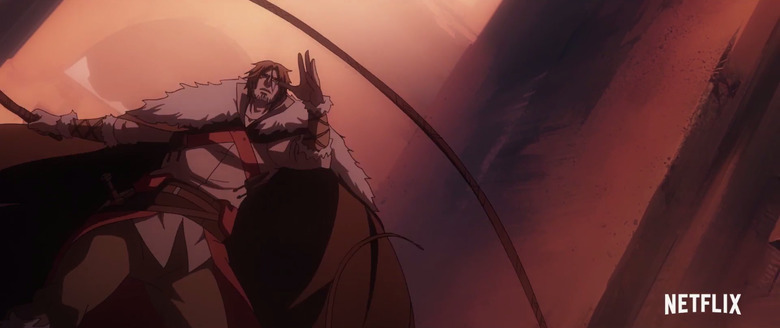 Following the success of '80s-nostalgia genre hit Stranger Things and the announcement of a prequel to Jim Henson's '80s magnum opus Dark Crystal, Netflix continues to dig deep into our childhoods.
The streaming service has upped its nostalgia game, brushing off an old Nintendo cartridge (literally!) in the first teaser for its animated adaptation of the dark fantasy video game series, Castlevania.
Based on the Konami video game released in 1986 (many sequels would follow), the Castlevania TV series gives a slick, anime-style update to the popular pixelated game, though you wouldn't know it until nearly a minute into the teaser.
For a good 40 seconds of the 1:26 minute trailer, we're treated to an unknown hand brushing off an old Castlevania Nintendo cartridge. The unseen player is given the option of some pixelated versions of Kevin Spacey's Frank Underwood from House of Cards, Taylor Schilling's Piper from Orange is the New Black, with — since this is an adaptation of an '80s game — your requisite Stranger Things nod, before settling on the Castlevania. Someone must have been very proud of their pixel rendering of Spacey, because the teaser lingered on his likeness so long I thought for a moment that Castlevania would star Kevin Spacey. Alas, that was not meant to be.
The teaser then flashes to a grim animated landscape filled with impaled skeletons and dusty castles as a voice with a thick accent narrates, "There is a darkness upon this land. A savior is needed."
The teaser descends into gore and bloodshed before the hero is presented as "The man who will kill Dracula."
See the official synopsis below:
Inspired by the classic video game series, Castlevania is a dark medieval fantasy following the last surviving member of the disgraced Belmont clan, trying to save Eastern Europe from extinction at the hand of Vlad Dracula Tepe himself. The animated series written by best-selling author and comic book icon Warren Ellis and executive produced by Warren Ellis, Kevin Kolde, Fred Seibert and Adi Shankar.
Castlevania, also known as Akumaj? Dracula, was first released by Konami in Japan in 1986 for the original Nintendo NES console. It made its way to North America in 1987 and became a cult hit, making the lists of many "best video games ever."
The Netflix original series adaptation of Castlevania drops on the streaming service on July 7.