'Pirates Of The Caribbean: Dead Men Tell No Tales' On Track To Make $80 Million This Weekend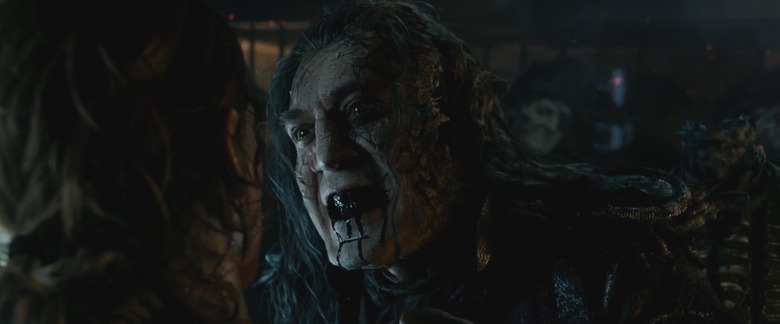 The reviews are in, and they aren't pretty for Pirates of the Caribbean: Dead Men Tell No Tales. The fifth Pirates film isn't as lifeless as On Stranger Tides, but it's not much livelier. But based on early box-office predictions, another underwhelming sequel likely won't put an end to the 14-year-old franchise.
The fifth Pirates film is expected to make $80 million domestically over Memorial Day weekend. Below, check out the Pirates of the Caribbean: Dead Men Tell No Tales worldwide box office tracking.
When it comes to the global box office, Variety reports that Joachim Rønning and Espen Sandberg's adventure film is on track to make somewhere between $150 million and $175 million. Some analysts believe it could end up reaching up to $300 million worldwide, which would add a hefty chunk of change to the $3.7 billion the series has already collected over the years.
The last sequel made $90 million in the states in its opening weekend and crossed the billion dollar mark around the globe. It's the second highest-grossing Pirates movie, right behind Pirates of the Caribbean: Dead Man's Chest. Series star Johnny Depp has starred in a string of major flops and this new sequel is about on par with his most recent work, but it looks like the quality of his last few movies won't deter audiences from seeing Dead Men Tell No Tales.
The film, which cost a reported $230 million, doesn't get the series back on its feet. Dead Men Tell No Tales tells a more straightforward story than Gore Verbinski's sequels and goes back to basics in a way, but a lot of it comes across as uninspired. Jack Sparrow now feels aimless. He had something driving him in the first movie and retained his charm and unpredictability in the first trilogy, but all these years later, he's feeling like a character who doesn't call for five movies. Sparrow and the series aren't nearly as fresh as they once were, but the franchise keeps on trucking and, based on this weekend's estimates, appealing to audiences.
Here's the official synopsis:
Johnny Depp returns to the big screen as the iconic, swashbuckling anti-hero Jack Sparrow in Pirates of the Caribbean: Dead Men Tell No Tales. The rip-roaring adventure finds down-on-his-luck Captain Jack feeling the winds of ill-fortune blowing strongly his way when deadly ghost sailors, led by the terrifying Captain Salazar (Javier Bardem), escape from the Devil's Triangle bent on killing every pirate at sea – notably Jack. Jack's only hope of survival lies in the legendary Trident of Poseidon, but to find it he must forge an uneasy alliance with Carina Smyth (Kaya Scodelario), a brilliant and beautiful astronomer, and Henry (Brenton Thwaites), a headstrong young sailor in the Royal Navy. At the helm of the Dying Gull, his pitifull small and shabby ship, Captain Jack seeks not only to reverse his recent spate of ill fortune, but to save his very life from the most formidable and malicious foe he has never faced.
Pirates of the Caribbean: Dead Men Tell No Tales opens in theaters May 26.