Spidey Makes Iron Man's Guest List In New 'Spider-Man: Homecoming' TV Spot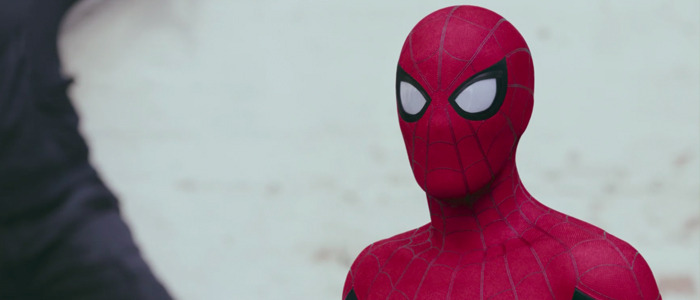 Hot on the heels of this morning's new trailers for Spider-Man: Homecoming (and our subsequent breakdown), Disney and Marvel Studios have released a new TV spot that ties the movie to the NBA Finals. And if there's one takeaway so far from all of this film's marketing, it's that they really, really want everyone to know that Robert Downey Jr.'s Tony Stark is a big part of Homecoming.
Spider-Man Homecoming TV Spot
There's a smirk-worthy little joke in there about Chris Evans' Steve Rogers not getting an invite to Stark's party because the events of Captain America: Civil War are too fresh on everyone's minds, but for the most part, this ad for a Spider-Man movie spends 90 percent of its time on banter between Downey and Jon Favreau's Happy Hogan. Hey, I get it. The Amazing Spider-Man 2 underperformed so much that Sony had to cancel the franchise mid-stream, so it makes sense that they'd be a little gun-shy about marketing another movie with just Spider-Man front and center.
We also hear some more from F.R.I.D.A.Y., Stark's artificial intelligence voice system that replaced Paul Bettany's J.A.R.V.I.S. after that character evolved into Vision in Avengers: Age of Ultron. It's only at the very end that we see a little glimpse of Tom Holland's excitable webslinger.
Overall, this is a light-hearted, fun commercial that, as you might imagine, leans heavily on the sports angle (Happy can't shave because he lost a bet, etc). And since this is titled "NBA Finals Spot #1," you can bet your web-shooters that we aren't done exploring this alternate storyline, which almost certainly won't appear in the final movie. I wonder if Kevin Feige has to approve all of this stuff and therefore considers it canon? If this were the Star Wars universe, there'd be a whole spin-off novel about what happens to Peter on the way to this party.
Spider-Man: Homecoming stars Tom Holland, Robert Downey Jr., Michael Keaton, Marisa Tomei, Jacob Batalon, Donald Glover, and many more. The film hits theaters on July 7, 2017.
A young Peter Parker/Spider-Man (Tom Holland), who made his sensational debut in Captain America: Civil War, begins to navigate his newfound identity as the web-slinging super hero in Spider-Man: Homecoming. Thrilled by his experience with the Avengers, Peter returns home, where he lives with his Aunt May (Marisa Tomei), under the watchful eye of his new mentor Tony Stark (Robert Downey, Jr.). Peter tries to fall back into his normal daily routine – distracted by thoughts of proving himself to be more than just your friendly neighborhood Spider-Man – but when the Vulture (Michael Keaton) emerges as a new villain, everything that Peter holds most important will be threatened.