'Despicable Me 3' Trailer: Gru Turns Back To The Dark Side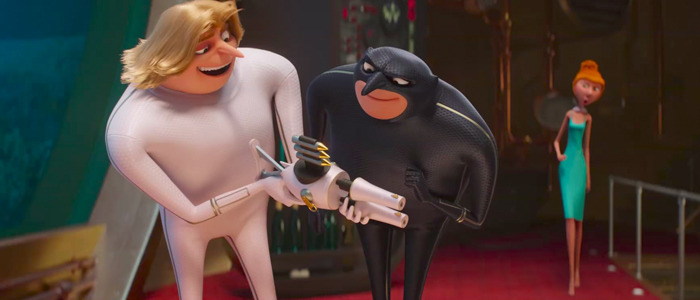 It looks like Gru, Steve Carell's reformed villain of the Despicable Me movies, is about to turn to the dark side once again. A brand new trailer for Despicable Me 3 has just been released, and the newest Illumination Entertainment sequel sees Gru meeting up with his twin brother Dru (also voiced by Carell) and being tempted to return to a life of crime. Minions form a dancing prison gang, hijinks ensue...you know how these things go. Check out the latest Despicable Me 3 trailer below.
Despicable Me 3 trailer
Whew, I'm exhausted just from watching this. I've never actually seen any of these movies, but my only exposure to anything Despicable Me-related – a Minion short that played before The Secret Life of Pets – was a punishing experience. Thankfully, this at least looks like it has more going on than just fart jokes, but there might actually be too much going on. I'm not sure how well this film's intended audience is going to be able to track all of its storylines, but I suppose these movies are just designed to get kids to shut up for a couple of hours and give parents some much-needed time to themselves.
Side note: I know voiceover work is generally viewed as a super easy gig in Hollywood, but from the sound of it, Carell definitely earned his paycheck on this one by pulling double duty as the twin brothers.
Are these movies better than their trailers indicate? Are they worth checking out? Are any of you looking forward to this one? Sound off in the comments and let us know if we're missing anything here.
Despicable Me 3 hits theaters on June 30, 2017.
Illumination, who brought audiences Despicable Me and the biggest animated hits of 2013 and 2015, Despicable Me 2 and Minions, continues the adventures of Gru, Lucy, their adorable daughters—Margo, Edith and Agnes—and the Minions in Despicable Me 3. Directed by Pierre Coffin and Kyle Balda, co-directed by Eric Guillon and written by Cinco Paul & Ken Daurio, the animated film is produced by Illumination's Chris Meledandri and Janet Healy, and executive produced by Chris Renaud.
Joining Steve Carell and Kristen Wiig in Despicable Me 3 is Emmy, Tony and Grammy Award winner Trey Parker, co-creator of Comedy Central's global phenomenon South Park and the Broadway smash The Book of Mormon. Parker voices the role of villain Balthazar Bratt, a former child star who's grown up to become obsessed with the character he played in the '80s, and proves to be Gru's most formidable nemesis to date.