First Look Video Inside Disneyland's Guardians Of The Galaxy – Mission: BREAKOUT!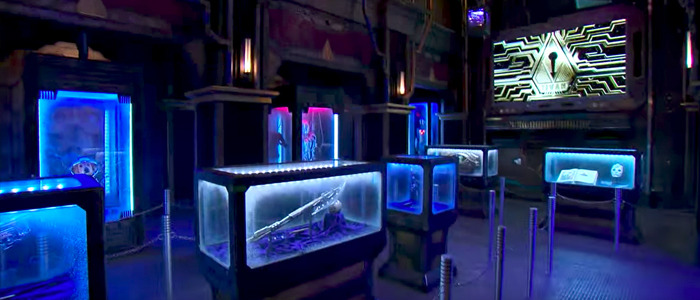 There are only a few more days until Disneyland opens the doors to its first Marvel attraction. Guardians of the Galaxy – Mission: BREAKOUT! is in the same location as the theme park's beloved Tower of Terror ride, and it's been completely revamped from the inside out to look like a fortress that belongs to The Collector, the eccentric character played by Benicio Del Toro in the Marvel Studios films. You can learn all about the attraction right here, but a new video interview with Del Toro has surfaced that gives us our first look inside the attraction...and this thing is practically overflowing with cool props and easter eggs.
Take a peek at the Guardians of the Galaxy ride video below.
First look inside Guardians of the Galaxy ride
Aside from a piece of concept art, that's our first official look into the incredible designs the Imagineers crafted for the interior of the attraction. Pretty impressive, huh? The concept behind the ride is that Taneleer Tivan (aka The Collector) has built this fortress on Earth and opened it up for tours in order to show off his collection to Terrans (aka Earth inhabitants). Here's a quick selection of the items I noticed in the Guardians of the Galaxy ride video, listed in the order they appear:
A medieval-looking book featuring photos of Elves from Thor: The Dark World
A Nova Corps uniform
The Warlock's Eye from Odin's trophy room in Thor
Cosmo the spacedog from the first Guardians movie, complete with a moving, animatronic head
The Brazier of Bom'Galiath, an ancient relic seen in Doctor Strange
A broken piece of an Ultron robot
Kree artifacts, including an axe and a spherical device, presumably a bomb of some kind
I thought for a second I may have spotted a majority of them, but then I read that there is a total of 2,200 props on display in the attraction, so it would appear I have just a bit more work to do before I track them all down. I'm guessing that means this video just focuses on one small section of the queue that people will stand in when they wait for their chance to experience the attraction.
In contrast to the old Tower of Terror, the Guardians of the Galaxy ride begins by zooming up to the top of the building where the Guardians themselves are being held captive in the story. I'll leave you to discover the rest on your own, but it's safe to say that Marvel fans will have a lot of fun wandering around in the queue area for this ride in the coming years, especially when The Collector comes around to meet fans at the park.
Guardians of the Galaxy – Mission: BREAKOUT! opens on May 27, 2017.