'Ant-Man' Animated Shorts Are Coming To Disney XD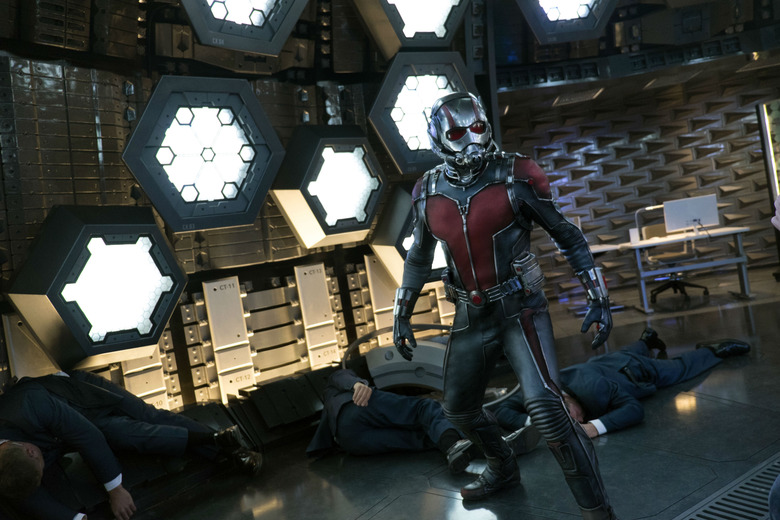 On June 10 and 11, Ant-Man is coming to Disney XD. Passion Pictures, which is the production company behind the instantly recognizable music videos for the Gorillaz, made six two-minute short films starring Ant-Man and the Wasp.
Below, take a look at the Ant-Man animated shorts coming this summer.
Passion Pictures also created the Rocket and Groot short films, which were 12 episodes long and aired on Disney XD in March. The Ant-Man animated shorts are directed by Ugo Bienvenu and Kevin Manach, whose previous work has an old-school vibe that should suit the Marvel hero. The first photos of their work (via Entertainment Weekly) – and the aesthetic they went with – does feel right for the character:
Although the Wasp isn't in any of the pics, her and Ant-Man (voiced by John Keaton) will fight together against Yellowjacket. In between action, writer Brian Wysol has Lang spending time with his daughter when he's not busy being a superhero. Hank Pym is also featured in the shorts.
Three of the Ant-Man animated shorts – "Science Fair," "Alien Invasion," and "Soup Time" – will begin airing at 7:58am ET on June 10. The next day, you can watch "Exterminator," "Proton Cube," and "Not a Day" starting at 11:28am.
After watching the animated works of Bienvenu and Manach, it's easy to see why Disney XD tapped them to direct the Ant-Man and the Wasp shorts – which have no connection to the MCU. There's a broad range of some stunning images in their reel:
How much the tone of their shorts reflect Peyton Reed's delightful heist movie, we'll have to wait and see. The Rocket & Groot shorts stood on their own. They didn't share too much in common with James Gunn's movies, as you can see right here.
As for the live-action Ant-Man (Paul Rudd), he'll be back in theaters with the Wasp (Evangeline Lily) and Hank Pym (Michael Douglas) next July. Reed, who's thankfully returning for the sequel, wants the character to stay in his self-contained corner in the Marvel Universe. "I think we like our little Ant-Man corner of the universe," he's previously said. "Because it's a whole different vibe tonally, but also just in terms of who Scott Lang, who Ant-Man is: he is a guy who is maybe not so sure he wants to be like this Avenger-style, full-on superhero. He's got a kid, and this is the inner conflict with him, and he's very much just like a normal guy who has come into contact with some incredible power. So, we like that aspect of kind of like it being its own little corner of the universe." That approach worked in the first movie's favor, and hopefully, it does the same for the sequel.