Zack Snyder Leaves 'Justice League' Due To Family Tragedy; Joss Whedon To Replace Him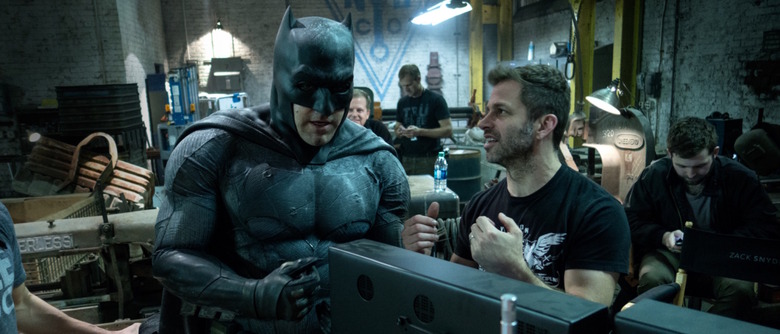 A horrible tragedy has occurred in the lives of director Zack Snyder and his producing partner/wife Deborah: in March of this year, their 20-year-old daughter Autumn committed suicide. After diving headfirst into work in an attempt to keep his mind off of his unthinkable loss, Snyder has now decided to step down from Warner Bros.' Justice League and has called in Joss Whedon to take over for him. Get the Justice League Joss Whedon details below.
Our thoughts are with the Snyder family right now in what must be an unfathomably painful time for them. That's the human side of the equation and the one that matters most right now. As for the business portion of the equation, I'm sure you have some questions about the future of the film.
First up, it's still on track to hit its November 17, 2017 release date? The studio offered to push the release date back, but the Snyder's decided against a move. WB has extended Snyder's first-look deal with the studio, so he'll be able to work on other projects when he decides to come back to work. Whedon, who's directing Batgirl for Warner Bros., has been tapped to "shepherd the movie through post and the shooting of some additional scenes."
Snyder reportedly wanted to add some extra scenes to the movie, and he had Whedon write them. But when the time came to a head to England to shoot them, the filmmaker felt he couldn't leave his family and had Whedon step in for him.
"The directing is minimal and it has to adhere to the style and tone and the template that Zack set," WB Pictures president Toby Emmerich told The Hollywood Reporter. "We're not introducing any new characters. It's the same characters in some new scenes. He's handing a baton to Joss but the course has really been set by Zack. I still believe that despite this tragedy, we'll still end up with a great movie."
Snyder himself opened up to THR about his loss:
"In my mind, I thought it was a cathartic thing to go back to work, to just bury myself and see if that was way through it. The demands of this job are pretty intense. It is all consuming. And in the last two months I've come to the realization ...I've decided to take a step back from the movie to be with my family, be with my kids, who really need me. They are all having a hard time. I'm having a hard time."
No kidding. I can't even imagine what they must be going through.
"Here's the thing, I never planned to make this public. I thought it would just be in the family, a private matter, our private sorrow that we would deal with. When it became obvious that I need to take break, I knew there would be narratives created on the internet. They'll do what they do. The truth it...I'm past caring about that kind of thing now. I want the movie to be amazing and I'm a fan, but that all pales pretty quickly in comparison. I know the fans are going to be worried about the movie but there are seven other kids that need me. In the end, it's just a movie. It's a great movie. But it's just a movie."
That sounds like the healthiest possible outlook when faced with a devastating situation like this.
We certainly don't plan on contributing to the type of narrative Snyder mentioned above, and my heart aches for his family's loss, but I think part of my job here requires stepping back and trying to take an analytical look at this situation. I can't think of anything like this that's happened in modern Hollywood history, let alone a situation that's this full of potentially incendiary circumstances for comic book movie fans.
Once the shock wears off, I imagine the reaction to this story could go in a number of ways. I'd love it if the most vocal, hardcore DC fans – the people who proudly love this film franchise more than anyone else – would express sorrow for Snyder's loss and embrace the situation as it is instead of getting upset that Whedon has stepped in to take over. Keep in mind: the initial report indicates Snyder hand-picked Whedon to tackle this job, and WB certainly needs someone with blockbuster experience to keep this massive project on track in the coming months as the Snyder family grieves. Ultimately, though, I think it's best for us to keep our thoughts with the family at this time and take a more analytical approach in the coming days, weeks, and months as Justice League approaches its release date.