'Wish Upon' Trailer: Joey King's Deadly Wishes Brings Death And A BMW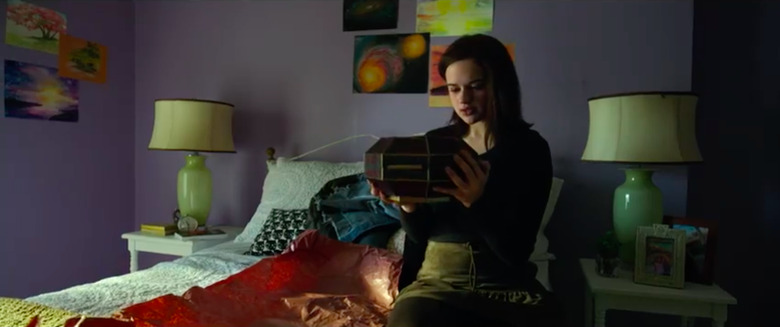 If you cross Joey King, get ready to pay the consequences. That's basically the premise of Wish Upon, in which the The Conjuring, White House Down, and Wish I Was Here star gets seven wishes to do as she pleases, like making a bully rot. A pretty sweet deal for a teenager quickly goes terribly wrong in director John R. Leonetti's (Annabelle) summer horror movie.
Below, watch the new Wish Upon trailer.
Leonetti has directed a couple of films, including The Butterfly Effect 2 and Mortal Kombat: Annihilation, but he was also the DP on films we're all familiar with. He worked on James Wan's Death Sentence, Insidious, and The Conjuring, and before that he shot The Mask, Detroit Rock City, and Hot Shots! Part Deux. He's shown a good amount of range over his varied career.
Leonetto's new horror stars King as Clare Shannon, who finds an old and dangerous music box. The box/demon asks for one simple thing in return for the seven wishes: Clare's soul. Wish Upon, which is written by Barbara Marshall, co-stars Sherilyn Fenn (Twin Peaks), Shannon Purser (Stranger Things), and Ryan Phillippe (MacGruber).
If one could wish for anything, anything in the world, would you ask for a BMW? You'd think somebody would ask for more, especially when they can ask a magical box for wealth. Not exactly dreaming big. Wish Upon is one of the few studio horror movies coming out this summer, so maybe it'll have an advantage because of that at the box-office. I also wouldn't mind seeing this movie do well for King. She's a good actress and helped create one of the best scares in The Conjuring, when she's overwhelmed by terror by somebody behind the door. If you've seen the movie, you may know the one I'm talking about.
Here's the official synopsis:
Twelve years after discovering her mother's suicide, 17-year-old Clare Shannon (Joey King) is bullied in high school, embarrassed by her manic, hoarder father Jonathan (Ryan Phillippe) and ignored by her longtime crush. All that changes when her father comes home with an old music box whose inscription promises to grant its owner seven wishes.
While Clare is initially skeptical of this magic box, she can't help but be seduced by its dark powers, and is thrilled as her life radically improves with each wish. Clare finally has the life she's always wanted and everything seems perfect – until the people closest to her begin dying in violent and elaborate ways after each wish. Clare realizes that she must get rid of the box, but finds herself unable and unwilling to part with her new-and-improved life – leading her down a dark and dangerous path.
Wish Upon opens in theaters on July 14.