'Austin Found' Trailer: Linda Cardellini And Craig Robinson Make Kidnapping Look Funny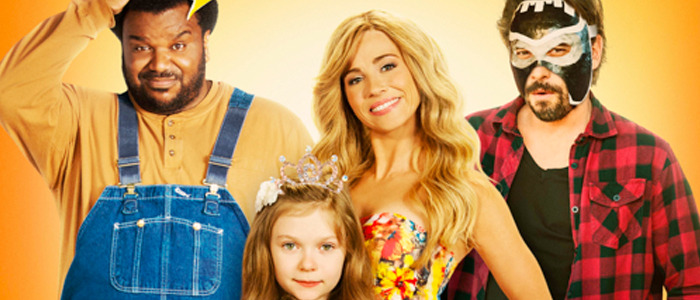 Kidnapping is normally no laughing matter, but in co-writer/director Will Raee's upcoming comedy Austin Found, he's gathered a stellar cast that he hopes will make you forget about real-world problems for a while and just watch a bunch of idiots try to get away with a small-town crime. With names like Linda Cardellini (Freaks and Geeks), Craig Robinson (The Office), Chris Parnell (Saturday Night Live), Matt Jones (Breaking Bad), Patrick Warburton (A Series of Unfortunate Events), and Kristen Schaal (The Last Man on Earth) on board, chances are pretty good that you'll at least crack a smile seeing their antics play out on screen.
Check out the first Austin Found trailer below.
Austin Found trailer
That trailer (via FirstShowing) seems very uneven to me, but the cast is so good that I might end up giving it a shot based on the strength of the performers alone. That being said, even the best actors can only do so much if they're working with a mediocre script, and it remains to be seen whether that's the case with this film or just if this trailer is a little too cute for its own good.
And I don't want to unfairly single this film out, but can we please call a moratorium on the "freeze frame, stylized background, nickname" trope already? It was played out ten years ago, so seeing it used here with a straight face is a little cringeworthy.
That being said, there may be more on this film's mind than I'm giving it credit for. For one thing, Cardellini (who's always great to watch) does appear to dive headfirst into exploring the mentality of a bored, fame-seeking housewife, and there might be an opportunity or two for some pointed commentary there. But the rest of it has a very basic, early-2000s comedy vibe to it, like it'd make a nice double feature with something like Saving Silverman. Again, that's not meant as a dig at the film's potential quality, just an observation about the vibe I'm getting from the trailer. As always, feel free to tell me I'm wrong in the comments.
Austin Found hits theaters and on demand platforms on July 7, 2017.
Leanne Miller (Linda Cardellini, "Freaks and Geeks") is a 36-year-old wife and mother whose hunger for fame and fortune leads her down a dangerous path. A former beauty queen and prom queen, Leanne is fed up with her unglamorously average lifestyle when she decides to take matters into her own hands by plotting a scheme to make her family instant celebrities. Teaming up with her ex-boyfriend, Billy (Skeet Ulrich, "Riverdale"), and his ex-con buddy, Jebidiah (Craig Robinson, "The Office"), Leanne conspires to have her 11-year-old daughter, Patty (Urusula Parker, "Louie"), kidnapped for just for a month or two. All Leanne has to do is keep the local press (Kristen Schaal, "Bob's Burgers") and Sherriff (Patrick Warburton, "A Series of Unfortunate Events") focused on the case at hand and off hers. What could go wrong?