Mel Brooks Says He's Talking To MGM About 'Spaceballs 2'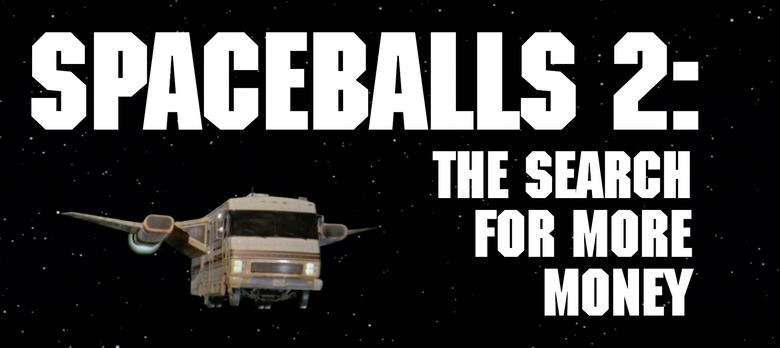 In Mel Brooks' classic 1987 Star Wars spoof Spaceballs, Bill Pullman's Han Solo stand-in, Lone Starr, asks Brooks' Yoda stand-in, Yogurt, if they'll ever see each other again. Yogurt responds: "Who knows? God willing, we'll all meet again in Spaceballs 2: The Search for More Money."
That was thirty years ago, and ever since, Brooks and the cast have been asked whether they'd ever consider turning that one-off joke into a reality. Against all odds, it seems like a sequel is now closer than ever, because Brooks says he's having active discussions with MGM about making it. Get the latest Spaceballs 2 news below.
The folks at Geeks of Doom have pointed us to a video taken yesterday of Brooks during a Q&A after a screening of Young Frankenstein, where he confirms the talks are taking place:
So... will there be a Spaceballs 2?! #MelBrooks says... pic.twitter.com/Ei89hTJLD7

— njpac (@NJPAC) May 21, 2017
To be clear, Spaceballs 2 still seems like it has some serious obstacles to overcome before it actually happens. But Brooks publicly admitting having conversations with the studio makes it seem like more than just a flight of fancy – this thing might actually happen one day after all. And considering we're in something of a Star Wars renaissance right now, there's probably never been a better time for Brooks to return to that world and make a whole new generation laugh.
The Star Wars universe is rife for skewering, and I'd much rather see Brooks apply his brand of humor to a new spoof than guys like Jason Seltzer and Aaron Friedberg – the guys behind Epic Movie, Meet the Spartans, and Vampires Suck. Unfortunately, those very directors are already actively working on a Star Wars spoof with the wildly unfunny title of Star Worlds Episode XXXIVE=MC2: The Force Awakens The Last Jedi Who Went Rogue. If that title is any indication, their sense of humor has not improved in recent years.
Brooks mentioned he was interested in making Spaceballs 2 around the time The Force Awakens was coming out, and last year, some fake posters even surfaced in New York City that were promoting the non-existent sequel. (You can purchase a set of real Spaceballs posters here.) But it's important to remember that Brooks is now 90 years old, so the idea of him getting back behind the camera to direct seems like a long shot. Maybe the nonagenarian could co-direct with a young up-and-comer in the comedy world, so he could focus more on writing and acting. Original star Rick Moranis said he couldn't make a deal with Brooks to appear in the sequel, but that was a few years ago and things may have changed since then.
Are you interested in seeing Spaceballs 2 come together, or do you think this is one of those situations where the final product would never live up to fan expectations after so many years of wondering what it might be like?