Oliver Stone Makes The Jump To Scripted Television With 'Guantanamo'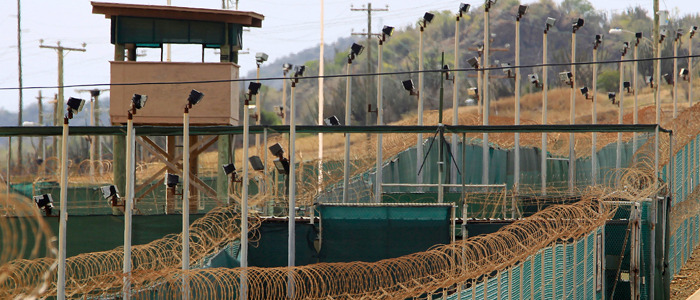 Over the past few years, more and more high-profile film directors have been fleeing the uncertain world of cinema in favor of longform television shows. David Fincher, Cary Fukunaga, Steven Soderbergh, Woody Allen, David O. Russell, the Wachowskis, Baz Luhrman, Jonathan Nolan...pretty soon, it's going to be difficult to name a filmmaker who hasn't made the jump to the small screen.
Oliver Stone (Wall Street, Platoon) already has a made-for-TV documentary coming to Showtime containing interviews with Russian president Vladimir Putin, and now the director is expanding his TV resume by making his first foray into scripted television. And since this is a Stone project, you knew it wouldn't be without some controversy: it's called Guantanamo and set at one of the world's most infamous prisons. Learn all about the Oliver Stone Guantanamo series below.
Weinstein Television has acquired Guantanamo for a multi-season run that "will focus on the detainees held in the world's most controversial prison, and those who defend and condemn them." The show is created by Daniel Voll (The Unit, Lie to Me), and Stone plans to direct every episode in season one.
On the off chance you've never heard of it, Guantanamo (or "Gitmo") refers to the United States Naval Base in Guantanamo Bay, Cuba, where there's a detention center containing terrorists, accused terrorists, and other prisoners who have been held captive and often tortured in the days following the September 11, 2001 attack on New York City. President Obama vowed to close the camp during his time in office, but he couldn't make it happen due to political opposition.
Here's a quick description of the new show from a press release:
The multi-perspective series, in the vein of Traffic and A Few Good Men, is based in part on Voll's first-hand research and will provide an inside, never-before-seen look into the darkest corners of Guantanamo. The series will not only tell the story of the detainees, but will follow the lives of the soldiers, judges, lawyers, doctors, journalists and other civilians on the remote military base, which has the surprising feel of an all-American small town.
In a statement, Voll said:
"Oliver and I are excited about creating an immersive, highly cinematic series, filled with twists and turns, that explores the dark side of how America prosecutes its war on terror."
The series is still looking for a home, but based on the real location being such a lightning rod for political arguments, I'm sure some network would love to be the benefactor of all the attention and thinkpieces – positive or negative – this series is destined to receive.