'Borg/McEnroe' Trailer: Shia LaBeouf Takes A Swing At A Tennis Movie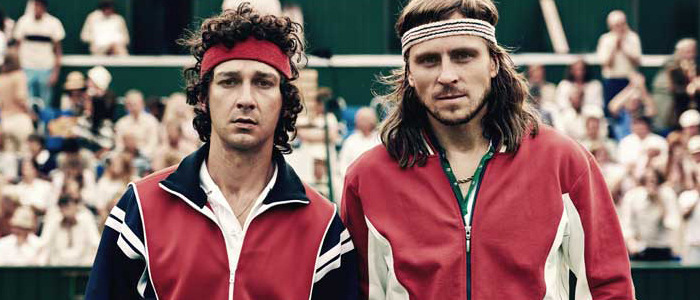 It's unlikely that George R.R. Martin was inspired to write his A Song of Ice and Fire novels by watching tennis legends Bjorn Borg and John McEnroe face off on the court, but considering the players' nicknames were Ice and Fire, it wouldn't be entirely ridiculous. (Mostly ridiculous? Yes.) The Swedish Borg was "Ice," cool, calm and collected; McEnroe, a notoriously hot-headed New Yorker, was "Fire." The two faced each other a number of times throughout the late '70s and early '80s, developing one of the sport's most epic rivalries.
Now they're getting the biopic treatment with a film called Borg/McEnroe. Swedish actor Sverrir Gudnason is playing Borg, but the big draw for me is that Shia LaBeouf – who's been known to be quite the hot-head himself over the years – is playing McEnroe. Check out the first international Borg/McEnroe trailer below.
Borg/McEnroe trailer
This teaser seems to put a bit more emphasis on Borg's journey, and Stellan Skarsgård looks like an intense coach and father figure for him. But we also get a quick taste of LaBeouf's fiery take on the loud-mouthed McEnroe, which looks like the real reason I want to watch this film. Look at this real clip from a mid-80s McEnroe match and tell me LaBeouf isn't the perfect guy to play this part:
The film is being directed by Janus Metz Pedersen (True Detective), who made his directorial debut by exploring this same subject in an episode of a documentary TV series called Clash of the Titans back in 1996. Ronnie Sandahl (Underdog) wrote the movie's script. This story looks to center on the 1980 Wimbledon finals, and if you don't know the outcome of that match and would like to spoil it for yourself, here's a short documentary that will do the trick.
Borg/McEnroe doesn't have a U.S. release date at this time, but it's slated to debut in some international territories (U.K., Sweden, Norway) in September and in Germany this October. The film's official synopsis is in German, but here it is translated – sometimes hilariously – using Google Translate:
It is the year 1980. Wimbledon is under the sign of the world-wide finale between Björn Borg and John McEnroe. The Swedish number 1, gentleman, the control in person, against the eccentric newcomer from New York. The Nordic coolness against the US hot-head. But these two sizes of white sport, they are much closer than one might believe. An unforgettable final is stored in the minds of the spectators. Borg and McEnroe: Former rivals and best enemies.