'Black Lightning' Trailer: Villains Are About To Get Lit Up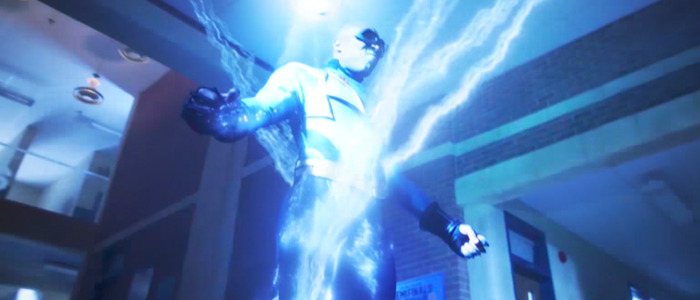 When The CW formed from the ashes of UPN and The WB, who would have thought that the fledgling network would become the go-to channel for live-action superhero television shows? Since Smallville, the network has expanded its roster to include Arrow, The Flash, DC's Legends of Tomorrow, and Supergirl, and now there's a new hero in town: Black Lightning.
The first look trailer for the new series has just dropped, and...slowly puts on sunglasses...it's electric.
Black Lightning Trailer
I'm conflicted about this one. As always, representation is incredibly important, so I'm happy to see star Cress Williams and other black actors leading a superhero series. At the same time, the show looks...well, like a CW series. As someone who stuck around for all ten seasons of Smallville (and man, there were some garbage seasons near the end of that show's run), I clearly have no high ground to bash this aesthetic too much. If I were 15 years younger, I'd be all about this, and to be fair, people fifteen years younger than me is the age group the CW is courting with this show anyway.
Also: this trailer initially made me think that one of the daughters might take on the mantle of Black Lightning, which sounds way cooler to me than their dad coming out of retirement to save them. Maybe the show will eventually head in that direction.
EW tells us that this series won't be a part of the Arrowverse, so a crossover with any of the network's aforementioned superhero shows seems unlikely at this point. Still, Greg Berlanti – basically the Kevin Feige of DC's CW shows – co-created the series with Mara Brock Akil and Salim Akil, so don't be too surprised if Berlanti eventually figures out a way for Jefferson Pierce to meet up with Barry Allen, Oliver Queen, or Kara Zor-El a few years from now.
Black Lightning will have its premiere during the midseason period this year on The CW.
Jefferson Pierce is a man wrestling with a secret. Nine years ago, Pierce was gifted with the superhuman power to harness and control electricity, which he used to keep his hometown streets safe as the masked vigilante Black Lightning. However, after too many nights with his life and his family on the line, he left his Super Hero days behind. Almost a decade later, Pierce's crime-fighting days are long behind him...or so he thought. But with crime and corruption spreading like wildfire, Black Lightning returns — to save not only his family, but also the soul of his community.