Alejandro G. Iñárritu's Cannes VR Project Sounds Incredible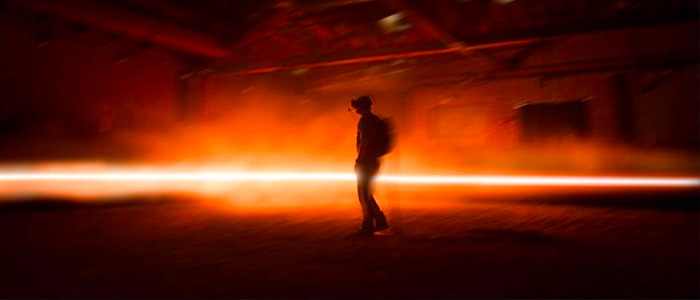 We've covered a handful of VR experiences here on the site, but I've never heard of anything quite like the new virtual reality project that Birdman and The Revenant director Alejandro G. Iñárritu has cooked up. It's called Carne y Arena, and it's the first VR installation to screen in the official selection of the Cannes Film Festival. The New York Times has an excellent breakdown of the experience, which spans three separate rooms and includes a walk-in freezer and a sand-covered floor as it gives you the perspective of migrants crossing the United States/Mexico border. Read the highlights below.
In France, this "groundbreaking hybrid of art exhibition, virtual reality simulation and historical re-enactment" is housed in an airplane hangar and begins by simulating the effect of being inside "las hieleras," or "the freezers" – real life holding cells in which apprehended migrants are placed if they're captured while attempting to cross the border. You step in a cold storage chamber and remove your shoes and socks to feel the cold on your feet before moving into a larger room that has sand covering the floor. You're given an Oculus Rift headset, a backpack, and a headset, and are virtually transported to a dangerous border area where they witness migrants in need of aid. A virtual helicopter appears with a roaming spotlight, and border agents with dogs thrust guns in your face and demand that you put your hands up.
Pretty straightforward, right? But remember, this is Iñárritu we're talking about, and it wouldn't be a project of his without a detour into a beautiful dreamscape. The officers disappear in a puff of smoke, one of the other migrants reads a book of poetry, and a woman who previously needed help now hums a lullaby at a long wooden table. Look closer at the table and you'll realize a capsized boat can be seen within it – which is apparently a reference to migrant crisis currently happening in Europe. The experience ends when you remove the VR headset and enter a final room filled with portraits of all 14 people you encountered in the virtual world.
Carne y Arena is the latest collaboration between Iñárritu and three-time Oscar winner Emmanuel Lubezki (aka "Chivo"), who's shot films like Children of Men, The Tree of Life, Gravity, and The Revenant. Lubezski shot the landscapes of the border zones, and the "actors" (who are actually not actors, but real undocumented immigrants) were captured on a soundstage and recreated digitally against those real backdrops. The process took four years for Iñárritu to perfect.
If you're disappointed you won't get to experience this Alejandro G. Iñárritu VR project for yourself, fret not: it's actually popping up in a few places across the world. It'll be at the Prada Foundation in Milan from June 7 to January 15, and at the Los Angeles County Museum of Art from July 2 to September 10.
Alejandro G. Iñárritu's "CARNE y ARENA" will be the first VR installation to premiere at the @festivaldecannes
A post shared by Anonymous Content (@anoncontent) on Apr 13, 2017 at 8:51am PDT
Header photo courtesy of Chivo's Instagram feed.