Scott Derrickson Will Direct TNT's 'Snowpiercer', Which Will Star 'Hamilton' Actor Daveed Diggs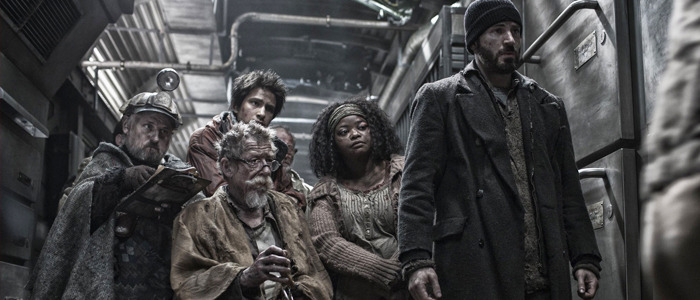 For me, TNT has always been the channel I turn to when nothing else is on and I'm looking for a familiar film to serve as background noise. I mean, how many times can one network possibly air The Shawshank Redemption? My guess is they've set the record, and second place isn't even close.
The network has had its share of original TV content over the past couple of decades – I guess someone has to keep Noah Wylie employed – but it looks like I'm going to have to brush off my preconceived notions about that channel, because they're apparently stepping up their game. They've hired Avatar 4 writer Josh Friedman to be the showrunner for a TV adaptation of Snowpiercer, and now two more big names have boarded the train: Tony Award-winning Hamilton actor Daveed Diggs will star, and Doctor Strange helmer Scott Derrickson will direct the show's pilot.
Snowpiercer is a French graphic novel that was adapted into a movie by Bong Joon-ho back in 2013, which told the futuristic story of the human survivors of a new Ice Age who all live on a perpetual motion train zooming across the icy remnants of the planet. The occupants of the train are divided up into living quarters based on their class, and eventually the poorest group – who live in filth – sparks a revolution against the rich, who have far more opulent living conditions. It's about as pure an example as you'll ever find of a single metaphor explored in visual storytelling.
I haven't seen Lin-Manuel Miranda's massively-hyped historical musical Hamilton yet (I'll remedy that later this year when the production comes to Los Angeles), but one of the big takeaways I've gleaned from the play's smash success is that Daveed Diggs' star is on the rise. In the TV adaptation of Snowpiercer, Deadline says he'll play the role of "Layton Well, a prisoner barely surviving the harsh conditions in the tail end of the train. A quiet thinker who spends his days sniffing the industrial-waste-turned-drug Chronole and tending to his cage full of rats, Layton becomes a reluctant participant in a struggle that could upend life on the train."
Derrickson, who has also directed films like The Exorcism of Emily Rose and Sinister, has a horror background that aligns nicely with some of the sickening reveals that happen in this story, so he's an interesting fit for this show's director's chair. He'll direct the hour-long pilot, and should it go to series, he'll executive produce the show alongside Friedman. Bong Joon-ho and Park Chan-wook are also executive producing, just to add some more credibility to the idea that this should be better than your average TNT show.
Check out the trailer for the film and let us know if you think this property will work best as a movie, television series, or graphic novel: